The much-loved UK and Ireland League of Legends tournament series, the UKEL, is back after almost two years as one of five LoL National Leagues announced today.
The Northern League of Legends Championship (NLC) has announced that after the current NLC Summer Split, it'll changing the way that players compete against each other in its lower-tier divisions 'to reflect the habits of local players from each represented region'.
The current structure of NLC Divisions 1 and 2 will remain the same, but Divisions 3 and 4 will be dissolved and the teams will now be spread out over the new LoL National Leagues in five sub-regions (UK and Ireland, Norway, Finland, Sweden and Denmark). So, teams will now compete in their local markets to work their way up through the higher NLC ranks.
The news comes almost two years after the existing national leagues were scrapped in favour of the NLC having its own divisions, after Freaks 4U came on board as operator of the NLC in August 2021. This led to the UK, Ireland and Nordics LoL esports community being up in arms over the closure of grassroots tournaments in early 2022.
Today, they're back.
LoL National Leagues structure confirmed for UK/Ireland, Norway, Finland, Sweden & Denmark
Riot Games will be working with local competitive partners in each of the five key markets in Northern Europe to set up competitions and events:
Denmark – Leagues.gg
Sweden – Svenska Online Ligaen
Finland – Finnhouse
Norway – GoodGame.no
UK/Ireland – UKEL
Similar to the NLC's current structure (which has eight teams in Div 1, ten in Div 2, 40 in Div 3 and 40 in Div 4), each of the local competitions will have a Division 1 and 2, but the lower-tier divisions will be expanded in order to accommodate the number of teams that sign up in each region.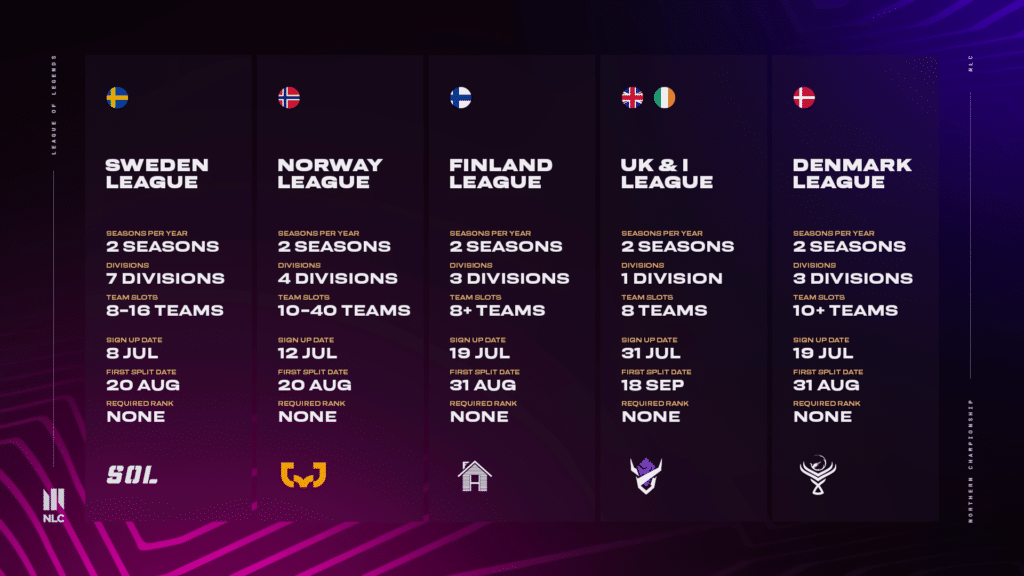 This local division structure will then feed into the Northern Europe region-wide NLC Division 2, which provides the path through Division 1 and into the EMEA Masters system, for local players and teams to access the highest levels of EMEA competitions outside of the LEC.
The top two teams from each local competition will be invited to the NLC Regional Promotion Series along with the bottom 2 teams from NLC Division 2 and they will battle it out to find the best two players to rejoin NLC Division 2 for the next split.
The new NLC Regional Promotion Series (NLC RPS)
From now on, UK, Ireland and Nordics LoL teams will only be able to compete with teams from other regions through the new NLC Regional Promotion Series (NLC RPS) that is accessed via a national league's Division 1 and the NLC Ladder.
The RPS' format is still to be confirmed, Esports News UK understands, but it will likely adopt a two-group system. It'll likely feature the top two teams from all the national leagues, plus two from Division 2, and two from the NLC Ladder.
When will sign-ups open and the LoL National Leagues start?
Signs ups will open for each of the new National Leagues starting from today for Sweden and Norway, July 19th for Finland and Denmark and July 31st for UK and Ireland.
The first Autumn Split for the LoL National Leagues will start in late August. Full schedules can be found on the Leagues.gg website.
Leagues.gg was appointed operator of NLC leagues for 2023 earlier this year.
You can join each sub-region directly through the local tournament organisers. Join their communities through the links below:
How will these changes affect current teams and those without a majority of regional players?
According to an NLC press release, if you find yourself in Division 3 or 4 of the current NLC system, you will have to apply for one of the five national leagues you would like to transition to with your team (find more information through the local tournament organisers).
This transition will require your team to field 3/5 players from the respective sub-region of your choice for the upcoming split.
If your team doesn't have a 3/5 majority of players from a specific region, it won't be possible to join a national league. But the NLC Ladder is still an option as it only requires three players from the NLC region as a whole.
'We want to foster growing communities and local competition' – Riot Games
"Our aim is to give players towards the bottoms of the pyramids additional flexibility with timings for games, so that players can organise, play and compete on a schedule that works better for them," said Will Attwood, Competitive Experience Manager at Riot Games.
"This new competitive system means that teams who want to play together can also compete together. We hope that by doing so, we can help foster these growing communities and local competition."
Riot's comments come a few months after it held MSI 2023 in London, whose crowds showed the strength of the UK LoL community.
"Our primary goal is to build a safe and welcoming community space for everyone [in the UK & Ireland] that shares in, and grows, their passion for competitive League of Legends," added Alex 'Synygy' Winton, founder of UKEL.
"The return of our competitive league will also provide opportunities for competitors, talent, and support staff to progress in a professional yet accessible environment."
Further reading: In-depth interview with the UKEL on its return and 4 Nations UK LoL esports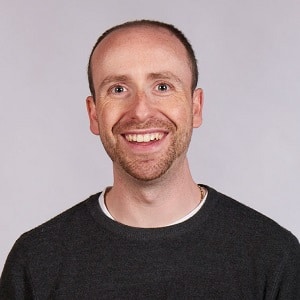 Dom is an award-winning writer and finalist of the Esports Journalist of the Year 2023 award. He graduated from Bournemouth University with a 2:1 degree in Multi-Media Journalism in 2007.
As a long-time gamer having first picked up the NES controller in the late '80s, he has written for a range of publications including GamesTM, Nintendo Official Magazine, industry publication MCV and others. He worked as head of content for the British Esports Federation up until February 2021, when he stepped back to work full-time on Esports News UK and offer esports consultancy and freelance services. Note: Dom still produces the British Esports newsletter on a freelance basis, so our coverage of British Esports is always kept simple – usually just covering the occasional press release – because of this conflict of interest.