Today Riot Games has kicked off the start of Season 2022 in League of Legends on PC, Wild Rift on mobile and esports in general.
The ranked season has now begun, complete with visual refreshes for each ranked tier.
Players will also be able to vote up to January 19th 2022 in the client as to which champion they want reworked with a visual and gameplay update, and which thematic skin lines they want revamped out of the following:
Champion VGU: Shyvana, Nocturne, Tryndamere, Skarner, Kog'maw
Thematic skin line revamp: Infernal, Gothic, Arclight
Riot also said something that will be music to Nymaera's ears: Ahri will be getting a 'Caitlyn-level update'/rework later this year.
Then, a new Challenges system is coming to League of Legends. Players will be able to track their progress across several aspects of their League experience and show this off in their profile, from perfectly executed plays to ultra-rare collections and more.
All of these changes were announced in the Season 2022 Opening Day stream today:
Changes to League's rare and exclusive content systems are also coming this year, including upgraded Prestige skins, a new Mythic Essence currency, and a revamped Event Pass experience.
Gemstones – which are currently used to unlock rare Hextech skins – will now become Mythic Essence. They will be converted at a 1-to-10 ratio. Prestige Points, used to unlock Prestige skins, will disappear.
And players will be able to obtain Mythic Essence in different ways, like from Masterwork Chests.
New seasonal mythic skins will be added, with one of the first skin lines being Ashen Knight (the below image is a skin for Pyke):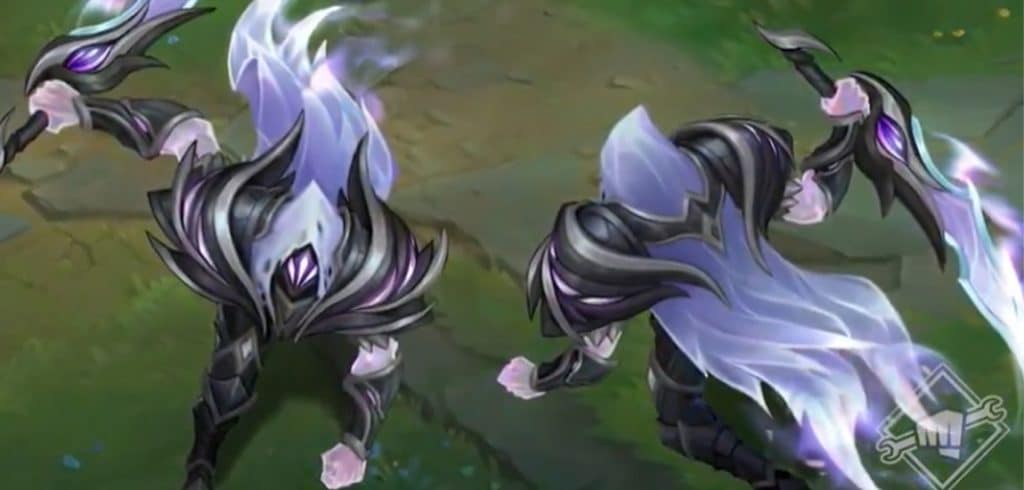 Older Prestige skins from 2018 and 2019 that can no longer be obtained in the game will be made available once more, in a new rotating mythic shop. More info on availability and timings can be found in this mythic content overhaul post on the League of Legends website.
To make it fairer for players who already own older Prestige skins, these existing owners will be getting updated versions of older Prestige skins, which can't be unlocked in any other way.
For example, existing owners of Prestige Evelynn will be getting a new, pink-themed Prestige Eve skin: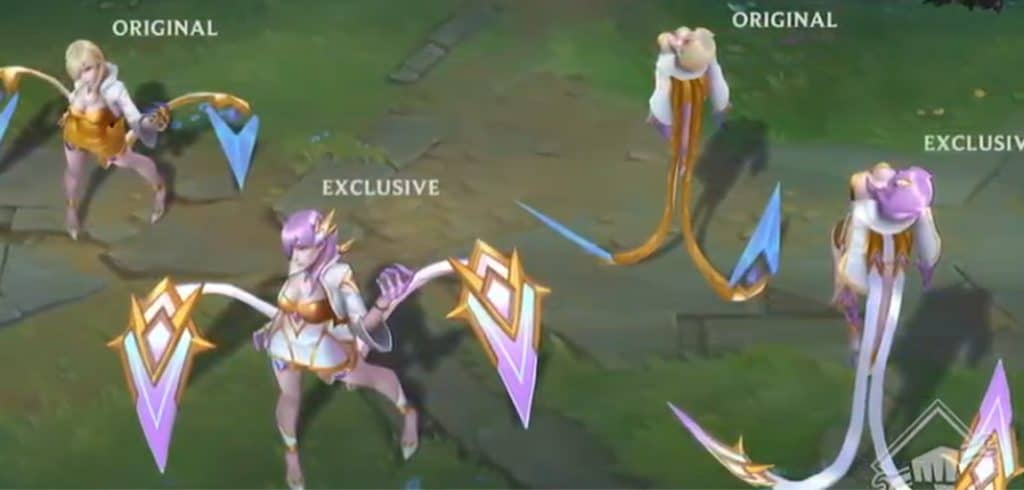 Riot is also planning on 'Prestige 2.0' – a new thematic skin line going beyond the usual 'gold chroma' Prestige skins currently offer.
Loot showcase events, like Battle Academia, are switching from Prestige Point bundles to a rewards track that progresses as you open event capsules.
"The skins that would've been released for Prestige Points are now exclusively releasing as the final reward on showcase milestone reward tracks. After the event ends, they'll be unobtainable until they're unvaulted in the Mythic Shop in the future," Riot said.
LoL's event passes will also be overhauled, with players unlocking new goodies as they level up through the pass. These will feature 50-level rewards with paid and free tracks.
In terms of other skins, some champions in the 1,000-day club (those who haven't had a skin in over 1,000 days) will be getting new skins, including Gangplank, Fiddlesticks, Rell and more.
Riot this week also announced new Porcelain, Withered/Crystal Rose and Firecracker LoL skins, including another Prestige Edition Lux.
And looking at skin line thematics, there will be new High Noon, Star Guardians, Battle Bunnies, Monster Tamers and Bees skin lines this year:
There will also be new missions and rewards, with missions unlocking daily from January 7th to 13th. Rewards include the following:
Season 2022 Icon

1500 Blue Essence
Eternals Capsule
Forge God – Season 2022 Ward
The Call Emote
500 Orange Essence
Hextech Chest + Key
A Season 2022 Clash tournament will also run from January 15th to 16th.
Looking at the Wild Rift League of Legends mobile game, in a few months new terrain changes are coming to Wild Rift. Within each game, one element will dominate the rift (Infernal, Mountain, Ocean, or Cloud), altering the map.
Looking at upcoming Wild Rift champions, Sett and Yuumi will arrive in patch 3.0 and Karma and Shen in patch 3.1.
Wild Rift Esports is also introducing the eight regional leagues that will be joining its competitive ecosystem.
Wild Rift Esports announced its first official global tournament, the Wild Rift Icons Global Championship, which will take place this summer in Europe.
Wild Rift Icons will be the highest level of competitive play and will crown a Wild Rift world champion.
In addition to celebrating players and the start of the 2022 ranked season, the League team also officially revealed the newest champion in the main League game on PC: Zeri, the Spark of Zaun.
Riot also said it has 'no plans for a League of Legends 2', but to keep on updating the existing game.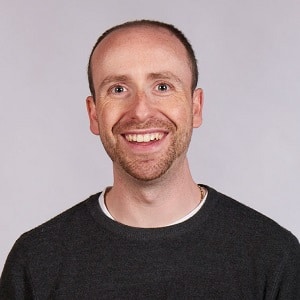 Dom is an award-winning writer who graduated from Bournemouth University with a 2:1 degree in Multi-Media Journalism in 2007.
As a long-time gamer having first picked up the NES controller in the late '80s, he has written for a range of publications including GamesTM, Nintendo Official Magazine, industry publication MCV as well as Riot Games and others. He worked as head of content for the British Esports Association up until February 2021, when he stepped back to work full-time on Esports News UK and as an esports consultant helping brands and businesses better understand the industry.