Promoted interview
How can external storage accessories like portable hard drives and SSDs help gamers and people working in esports?
We interview Tim Stevenson, regional sales manager for UK, Ireland and Nordics at Verbatim's new gaming brand SureFire to find out, and take an exclusive look at SureFire's new range of accessories including keyboards, mice, headsets and more.
What is the SureFire brand and what are your aims?
I've been with [SureFire brand owner] Verbatim for 13 years now. Verbatim is a data storage company that's been around for 52 years.
We're better known for optical media and blank CDs – back in the '90s we supplied a lot of that. And then back in the '80s it was all floppy disks. Then into the noughties we moved on to hard drives, memory cards and the ever so useful USB pens. Now we have SSD and security products and have moved with the times.
We've also produced accessories like headsets, but this is the first time we've launched a range of gaming products.
We want to reach out to new markets and reach more people, so we've entered into the gaming arena. We've started with what we know best – data storage products – and launched a new brand: SureFire. So we protect data, but now more specifically, we're protecting games now with the SureFire brand. And we've just in the past few weeks launched our full range of gaming products and accessories.
How can external storage accessories like portable hard drives and SSDs help gamers and people working in esports?
Nowadays, we're using so much data, and there's not always enough space for that data. If you're downloading games on Steam, some games are 100GB+ and that's a lot to put onto your hard drive or internal SSD.
So you have to look after that space, and treat it and respect it. One of the best solutions is to use an external storage device to store more games on. For example, we have a 2TB hard drive in the SureFire range – the Bunker drive. 2TB can store on average 50 games if each game is about 40GB.
So to store 50 games is great. So what can you do with that? You can travel around with it, you don't need to swap devices around and download each time, and it also offers reduced loading times.
External storage is also good because if you don't have decent internet speed, you don't want to be downloading that game again and again, you need to store it somewhere.
Then for the people working in esports, you're working with critical, precious data, whether it's company accounts or team sheets for an event you're attending or working on, you should really be backing up that data. Don't just rely on it being on one machine. If you spilt coffee on a machine, that's it, you could easily lose that data and you might need to work on it all over again.
So having a backup plan is really important. And yes, the cloud is there, and it's good to use as part of your backup plan, but it's good to have a physical medium you can store safely as well.
Which gaming products are in the SureFire range?
We have two external HDDs (1TB and 2TB) and two SSDs (512GB and 1TB). These have a nice design with RGB lighting that runs through different colours when it's active. It's USB 3.2 gen 1 and comes with a USB C adaptor and Nero backup software as well.
We also have a whole range of accessories as well, so there are 20 products in the SureFire range now.
We've just launched two headsets – a high performance stereo 2 sound Skirmish headset with LED lighting, volume control and a green and black camoflauge look to it. Then there's the Harrier headset with RGB lighting on the cups that gradually spins around. It's high quality, lightweight and has 7.1 virtual stereo sound.
We also launched a range of mice, including 7-button, 8-button and 9-button with RGB lighting, as well as a range of USB water-resistant mouse mats including an RGB version that has 14 light modes on there. There's also a mouse bungee that doubles up as a USB hub, which has three USB ports and a micro SD card reader port on it too.
We also have a netbook fan, a keyboard (with 114 keys, RGB lighting, 25 anti-ghosting keys and a braided cable), and a range of speakers. We also have bundles that include a keyboard, mouse and mat.
These have just landed in our warehouse, and we haven't presented these anywhere else, so Esports News UK has an exclusive here!
So, please make sure you back up your data. Use our external products that look good with gaming setups, have fun and 'stay on fire'.
You can get SureFire products from Maplin.co.uk and there are others selling them as well – Scan, CCL, Ebuyer, Box, Currys PC World, Argos and Smyths Toys Superstores.
How did you get into gaming? We've come a long way from the old ZX Spectrum and floppy disks!
I was a ZX Spectrum player when I was a boy in the early '80s, I had a rubber key 48k with a cassette recorder to load up the games. You had to control the volume to make sure it didn't crash!
I remember I was the talk of the school because my parents bought me a 128k floppy drive for Christmas – and it was amazing! You had this disk you put inside and it was silent. So I was brought up with floppy disks.
Nowadays, my 8-year-old son is massively into his Switch and first-person world games like Minecraft and Hello Neighbour. He likes Lego World too. So we play games together and he's enjoying using a SureFire headset as well.
Are you planning on working with any esports teams or players?
We've been speaking to a few esports teams and competitive gaming is quite new to us. A year and a half ago, I started to approach some esports teams and we had some discussions. I must say they were so welcoming with open arms.
When I was allowed to travel before lockdown, I was up in the Nordics a few times and met some teams there. I got the tour and the background, and as a football fan, I recognised the setup was incredible. At one training facility they had a martial arts expert in to help the players with their reflexes.
It was a big eye opener. What I learnt is that if we work with a team, we're not just reaching out to that team's fanbase. Fans often follow a specific player and have a wider interest in teams. If we produce a hard drive with a Man United badge on it, you can be sure it's not going to sell that well in Liverpool! But if we put an esports team on the box of a SureFire drive, I'm convinced it'd sell across the board. A big team will be of interest to gamers.
So we have connections with Nordic teams and it's been interesting to see Ninjas in Pyjamas doing work with Leeds United. I found that interesting to see them competing in the ePremier League [which was just won by Shellzz of Manchester City, who beat Leeds' Ollelito in the final last week].
We haven't joined forces with anyone yet but have had some influencers doing some work with us for the brand launch, so it's part of the strategy and I should think we'd get involved with esports and sponsorships further down the line.
Hit us with a data stat to end with, Tim!
Between 2010 and 2020, the amount of data created, captured, copied and consumed in the world increased from 1.2 trillion GB to 59 trillion GB. That's a 5,000% increase.
If I was to have 59 trillion GB of data, I would need 922 billion 64GB USB pens to store all that data!
That's about 5cm in length, so if you were to line up those 922 billion USB pens, that would stretch for 4.6 trillion miles.
That's the distance, more or less, to Pluto! So it's mind-boggling, the amount of data we consume – and it's always growing.
Promoted interview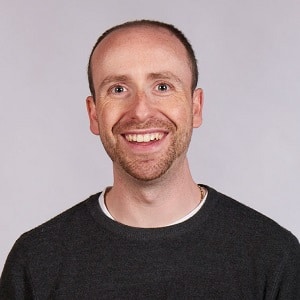 Dom is an award-winning writer who graduated from Bournemouth University with a 2:1 degree in Multi-Media Journalism in 2007.
As a long-time gamer having first picked up the NES controller in the late '80s, he has written for a range of publications including GamesTM, Nintendo Official Magazine, industry publication MCV as well as Riot Games and others. He worked as head of content for the British Esports Association up until February 2021, when he stepped back to work full-time on Esports News UK and as an esports consultant helping brands and businesses better understand the industry.