Esports News UK editor Dom Sacco shares a unique experience taking part in the Ukie journo/dev swap gamejam in partnership with Alzheimer's Research UK.
This weekend just gone, I made a game! It's not a very good one, granted, but it works, it's got replayability and it was damn fun putting it together.
It's called Reboot and it's about having to hack a robot president's brain to save the world. More on that in a bit.
I was taking part in a journo/dev swap gamejam at the Ukie offices, where games journalists (like Laura Kate Dale, Julia Hardy, James Batchelor to name a few) swap places with games developers (including Paul Kilduff-Taylor from Mode 7, AJ Grand-Scrutton from Dlala Studios, several from Bossa Studios).
We have to make the games and the devs report on them.
Journos get teamed up with student game devs – in my case the talented Lewis Rean and Adam Tedder – to help them make the game using Unity.
I had never used Unity (or coded) before, but took to making art using Piskel and spent time sourcing cool retro music. I had initially wanted to dig out some old guitar tracks I wrote and recorded from when I was a teenager playing in a band, and though I found a chiptune converter programme, it didn't work well so had to ditch that idea.
That's one thing I got used to over the course of the weekend – having to drop ideas to get the game finished on time. We wanted our maze game to have music that sped up as the time limit elapsed, we wanted more puzzles and to zoom out briefly at the start of the level to show the player how our maze looks like a brain. Maybe next time!
Speaking of the brain, this was the gamejam theme given to the journalists and student developers by Alzheimer's Research UK. As I like stealth games and hacking mechanics, we thought we'd make a game where you have to hack into a robot president's brain from the year 2607 to save the world. As you do.
We wanted our maze game to be fast, frantic and reward the player for replaying it. We added three endings – good, bad and average – and had a blast making it.
Download it
A great team
Last but not least, a shoutout to all the great people I met this weekend – the devs, journos, judges, guests, the organisers. Top work and I would love to do something like this again in the future.
Congratulations to the winners of the gamejam, Alysia Judge and Saul Barrere, for their great text adventure Lost For Words:
Further reading (check out the reports written by developers here):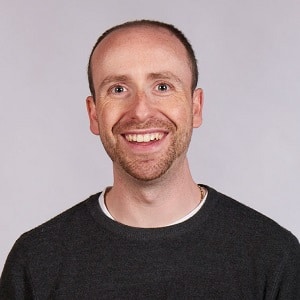 Dom is an award-winning writer who graduated from Bournemouth University with a 2:1 degree in Multi-Media Journalism in 2007.
As a long-time gamer having first picked up the NES controller in the late '80s, he has written for a range of publications including GamesTM, Nintendo Official Magazine, industry publication MCV as well as Riot Games and others. He worked as head of content for the British Esports Association up until February 2021, when he stepped back to work full-time on Esports News UK and as an esports consultant helping brands and businesses better understand the industry.