League of Legends developer Riot Games has confirmed it is working on a fighting game.
Riot spoke about the news after Tom Cannon, co-founder of the EVO fighting game esports event and game developer Radiant Entertainment (which was acquired by Riot back in 2016), revealed the info on stream.
"Back in 2016, when we joined forces with Riot, I said we were going to go in the hole for a while, right?" he said.
"I wanted to let people in on maybe the worst kept secret in the universe, which is that I can confirm we are working on a fighting game for Riot."

Riot added in a statement sent to various news outlets: "Riot Games is excited to confirm that we're developing a fighting game.
"We have experienced the profound impact this genre can have on players and want to bring the fighting game experience to more people.
"We're working hard to create a game truly worthy of the vibrant fighting game community and are making progress, but still have a long way to go before we're ready to share more details."

"We're working hard to create a game truly worthy of the vibrant fighting game community and are making progress, but still have a long way to go before we're ready to share more details."
Riot Games

The idea that fighting games can be brought to more people was also echoed by Tom, who said: "So, the reason why we did [now-canned free-to-play fighting game] Rising Thunder in the first place is that we felt that fighting games needed to be enjoyed by way more people. Like as big as things are, we think it has the potential to get bigger."
Riot did not confirm whether or not the fighting game in development would be League of Legends-themed.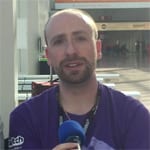 Dom is an award-winning writer who graduated from Bournemouth University with a 2:1 degree in Multi-Media Journalism in 2007.
A keen League of Legends and World of Warcraft player, he has written for a range of publications including GamesTM, Nintendo Official Magazine, industry publication MCV as well as Riot Games and others. He works as full-time content director for the British Esports Association and runs ENUK in his spare time.