UPDATE (June 22nd): Nightblue has now been banned by Riot for his threatening comments to Nubrac in the game in question mentioned below.
JUST GOT A 2 WEEK VACATION pic.twitter.com/ByLtmAcRPp

— Nightblue3 (@Nightbloo) June 21, 2019

Original article (June 15th): (We've all been there – the ADC that flashes after your support last-hits their cs, the mid-laner that starts taking your jungle camps, the tilted top-laner that runs it down mid.
Trolls, flamers and afkers are unfortunately a part of League of Legends, and Riot Games does its best to dish out bans to those kind of players, where appropriate.
However, what happens when a player is banned not for intentionally feeding, but what he describes as a legitimate off-meta strategy?
That's exactly what's been hotly debated on the League of Legends subreddit over the past few days.
The news first rose to prominence from this post on the LoL subreddit, suggesting that a streamer by the name of Famous Nubrac was banned after fellow streamer Nightblue3 took issue with his Teemo mid support pick and reported him to Riot.
The post – biased towards Nubrac and against Nightblue – linked to this video which shows the two streamers' viewpoints during the match in question:

At one point when Nightblue spots Nubrac leaving his ADC to support Irelia in the mid-lane, he types in chat threatening to get Nubrac a two-week ban. He proceeded to call Nubrac "a ****ing loser" in chat and said "say bye bye to your account".
Nubrac defended the viability of his play-style at this point, saying that he had done nothing wrong, citing the 1-0 scoreline and the fact he helped Irelia get first blood.
He said his intention was to get Irelia ahead in the mid-lane and that Sivir in the bot-lane could handle the enemy bot lane 2v1, and that he does this all the time and wins.
However, by the ten-minute mark, their team had 9 deaths and just 2 kills, and Nubrac's teammates started to give up. They ended up afking in their fountain and lost the game.


"I've done nothing wrong. I come up with new strategies to win games, that's what I do, " Nubrac said. "I did not intentionally take any cs – I played like a normal support except being mid lane."
He has a 48% win rate with Teemo, with more than 400 games, though it's not clear how many of them were played mid support. Over the past few weeks he's played with Nightblue in two other games, one they won together when Nubrac picked Leona, and another where Nightblue beat him on the other team (Nubrac had another Leona pick).
Nubrac was later handed a 14-day ban for "disruptive behaviour in the game like trolling, griefing, intentionally feeding or deliberately trying to lose the match".
He reached out to Riot via a ticket and asked for reasons for the ban: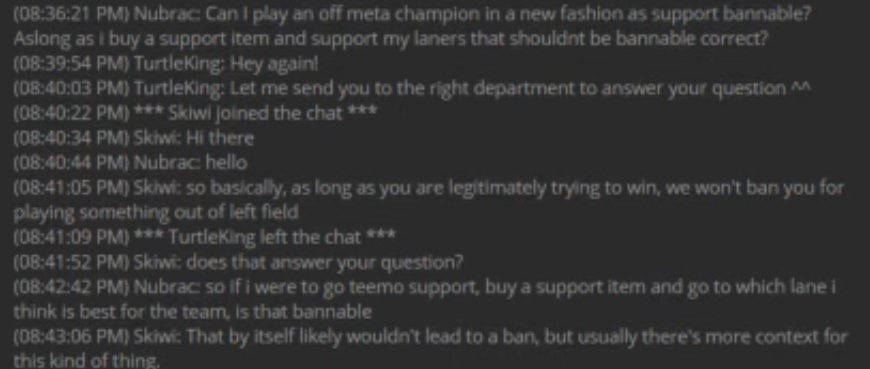 Riot's response suggests there's more to the ban than this match.
Other prominent League of Legends players reacted to the news, including several who defended Nightblue, as outlined in this subreddit post:
nubrac has been a troll since season 4, i don't know why anyone is pitying him for the ban… no one signs up to play duo mid and solo adc when they queue for ranked, its an obvious stunt and people are falling for it. if anything nightblue did the high elo community a favor

— Irelia Carries U (@IreliaCarriesU) June 15, 2019
imagine having a teemo support soaking xp mid and calling it a 'off meta strat' ??

hopefully i'll never have to experience this strat 🙂
— Nicolaj Jensen (@Jensen) June 15, 2019
Half of reddit unironically defending nubrac is so disgusting – the kid actively ruins every game by picking teemo support and laning top/mid. Sitting invis in the middle of lane soaking xp while bot is 2v1 hahahah. This shit isn't revolutionizing the meta it's 400 games 48% wr

— Forest (@ForestWithin) June 14, 2019
Both Nightblue and Nubrac had a one-on-one discussion on stream about whether Nubrac's actions were bannable or not.
What do you think? Do you agree with the tweets above? Is it a worthy ban or are Nubrac's cries of innocence to be believed?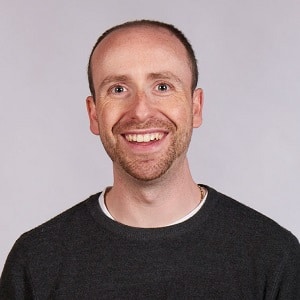 Dom is an award-winning writer who graduated from Bournemouth University with a 2:1 degree in Multi-Media Journalism in 2007.
As a long-time gamer having first picked up the NES controller in the late '80s, he has written for a range of publications including GamesTM, Nintendo Official Magazine, industry publication MCV as well as Riot Games and others. He worked as head of content for the British Esports Association up until February 2021, when he stepped back to work full-time on Esports News UK and as an esports consultant helping brands and businesses better understand the industry.