"Get ready for the Fortnite Event of the year!"
When that's the opening line of an event page run by a 'very small family-run business' with no background in video games/esports, you know something is going to go down.
It's probably not going to be good, mind, and unfortunately that was exactly the case for visitors to Fortnite Live in Norwich on the weekend.
The event at the Royal Norfolk Showground Arena promised 'the ultimate Fortnite Battle Royale, with live games playing throughout the day, dance battles to end all battles, challenges, crazy competitions, awsome (not our typo) activities, screens of your favourite YouTubers playing non-stop and of course shopping, and so much more!'
What punters actually got was queues upon queues, a climbing wall that could fit 'about four kids' on it, a 'cave experience' which was actually a truck with a tarpaulin covering its sides, a merch stall selling baseball caps with cannabis leaves on them and a big inflatable llama with a crowd barrier around it, according to a visitor speaking to the Independent.

@EDP24 fortnite live event. 1 climbing wall between 3000+ children. 4 go karts between the same amount, nobody dressed up as characters, people still queuing 2hrs after gates open. Absolutely awful #fortnite #fortnitelive pic.twitter.com/D8laYvzbpG

— #OfficalMarcSmith (@marc0835) February 16, 2019

Other mainstream publications that covered the news (and parents' many grievances of the event) included ITV, the BBC, the Guardian, the Sun, the Daily Mail and others including regional titles like Edinburgh Evening News and games sites like Eurogamer.
Visitor Sharon Lee told ITV: "It was a shambles, it was an embarrassment.
"There were huge, gigantic queues everywhere. Everything they'd advertised as amazing, wasn't. It was more of a school fete than it was a 'Fortnite Live' event."

Organisers of the '#Fortnite Live' event in #Norwich have apologised after being inundated with complaints from angry parents. pic.twitter.com/wTGUQfzLMO

— ITV News Anglia (@itvanglia) February 17, 2019

Several customers have demanded refunds on the Facebook page, which has since been removed by the organisers.
The refund policy on the Eventbrite page reads as follows: 'No refunds.'
According to reports, some wristbands were refunded, but not the entrance tickets, which were priced around £12 to £22.
Visitors wanting to take part in activities were required to pay an additional £1 per token £20 per wristband on the day.

"It was more of a school fete than it was a 'Fortnite Live' event."

Fortnite Live was put on by a company called Exciting Events. Owner Shaun Lord told the Guardian: "We are dealing with people on an individual basis. There are a lot of people who have told me they have had a fantastic time and their kids have thoroughly enjoyed it.
"We will take everybody's feedback into consideration and we will act on it."
The other thing was that Exciting Events appeared to be using part of the Fortnite logo to promote this event, not to mention its name Fortnite Live, but there was no indication of any official partnership with Epic Games.
Well, it sounds like it was certainly a memorable Fortnite event, we'll give the organisers that.

Image source: OfficialMarcSmith Twitter
Hide our ads and become a premium reader to support ENUK today from just £1 per month!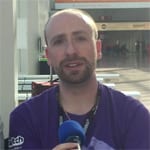 Dom is an award-winning writer who graduated from Bournemouth University with a 2:1 degree in Multi-Media Journalism in 2007.
A keen League of Legends and World of Warcraft player, he has written for a range of publications including GamesTM, Nintendo Official Magazine, industry publication MCV as well as Riot Games and others. He works as full-time content director for the British Esports Association and runs ENUK in his spare time.