EA has suspended UK FIFA pro Tassal "Faze Tass" Rushan from competing in qualifiers and live events for a currently undisclosed length of time.
Tass breached EA's code of conduct when he used the word 'fag' in one of his FIFA videos on YouTube.
He used the word to describe a player card – Inter Milan midfielder Matías Vecino – who kept appearing for him in-game.
"Oh my God that guy has actually cursed me," he said. "We're seeing this freaking fag again."
I am sorry to anyone I offended with what I said, I hold myself to a higher standard & I failed to live by FaZe & EA's code of conduct. It was a wake up call that I need to be more careful with what I say, I'll use it as a learning curve moving ahead, I'll be back competing soon.

— Tass (@FaZeTass) November 5, 2018
Tass later said in an explanation video: "Why did I say it? It's a very unfortunate, unintentional misunderstanding from my end.
"Due to where I've been brought up, the connotation of that word from my perspective – until now – was just another word for prick or idiot or rubbish. Not even 1% of me knew it had any type of derogatory connotation towards homosexuality at all.
"If I knew it did, there is no way I'm saying anything. I would never say anything like that, trust me. It just comes down to stupidity and unintention from my perspective. Internationally, I should have been aware of the meaning of the word and how it could be perceived, and I didn't. So that's my fault."
You can watch the video in full here:

Tass also gave an apology to his fans and others in the community.
"I want to apologise to EA, to Faze, I've let them down, I've let myself down," he added.
"I really want to come back from this. I hope you accept my apology and I come back as soon as possible."
Tass joined Faze at the start of this year.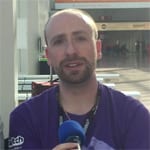 Dom is an award-winning writer who graduated from Bournemouth University with a 2:1 degree in Multi-Media Journalism in 2007.
A keen League of Legends and World of Warcraft player, he has written for a range of publications including GamesTM, Nintendo Official Magazine, industry publication MCV as well as Riot Games and others. He works as full-time content director for the British Esports Association and runs ENUK in his spare time.