ENUK's Dom Sacco looks at the appeal of Valve's classic FPS in the world of esports, in light of the buzz at the latest Insomnia LAN.
The Insomnia Gaming Festival of course features a range of esports tournaments, from League of Legends to Overwatch, Hearthstone to Rocket League and others.
So how come it was a game that's over 10 years old which drew the most numbers this past weekend at i63?
Team Fortress 2 pulled in around 12,500 live viewers on the EssentialsTF Twitch channel during the grand finals on the players stage, as pointed out on the TF2 subreddit, with an engaged chat and dedicated fanbase.
It would be easy to suggest this was due to it apparently being featured on the Twitch UK homepage (we've reached out to Twitch for clarification), but there's arguably more than just promotion at play here.
TF2 has a passionate and loyal fanbase, if a much smaller one compared to other esports, but it's had time to build this up over the past decade or so (or longer, if you take the original TF mod and game release from the '90s into consideration).
Tf2 crowd Lower Bracket Final: Se7en vs Svift #i63tf2 #i63 pic.twitter.com/XRvujzPAqP

— TurboTabs (@_TurboTabs) August 26, 2018
Some members of the community suggested viewer bots may have at play here, but I'm not so sure.
According to Toornament.com, 37 teams signed up to take part in the TF2 tournament, which was won by Froyotech.
The impressive turnout surprised some members of the UK esports community.
#i63 Note to self:
Read the crowd. Didn't realise it was populated with TF2 fans waiting to watch their tournament. Mentioned Overwatch and they all boo'd me and it left me on stage like: pic.twitter.com/lvW7ZQBg0Z

— Tridd (@_Tridd) August 26, 2018
I'm so confused. Why are people getting so hyped for TF2 at #i63? Where were these people for League finals? Bizarre

— Jeff Simpkins #i63 (@Barrage_Jeff) August 26, 2018
It's not even as if this kind of demand for TF2 at Insomnia is new. Two years ago we posted these pictures on Twitter of the TF2 crowd.
The UK TF2 scene is still going strong #i58 pic.twitter.com/lkuiudGrmr

— Esports News UK (@Esports_News_UK) August 28, 2016
It's a healthy and encouraging crowd size, and more than UK League of Legends or other scenes attract.
That's not to downplay them. Other games like League have a much bigger global esports scene, so fans naturally flock to watch the higher-tier tournaments rather than Insomnia LANs.
But for TF2, the Insomnia LAN is a big deal. The Summer Insomnia is one of the main TF2 LANs for the game, the other taking place in the US, so it naturally draws a lot of the community, as shown in the video below:

Due to this demand, Insomnia aired the finals on the main esports stage ('the players stage'). This started a little later than planned, due to CSGO going into overtime, and some members of the TF2 community vented their frustration, but it all went ahead.
TF2 was also the only BYOC tournament that had a dedicated place to watch all its coverage.
TF2 might not be as big as other, newer esports. But it clearly has a following, and if Insomnia is such a big deal for those guys, it would be great to see it continue to get support from Insomnia again in the future. And maybe even support from other organisers or events?
If this helps to draw further awareness to esports in the UK, creates a buzz with moments like below and keeps a loyal fanbase happy at the same time, count me in.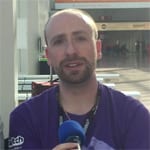 Dom is an award-winning writer who graduated from Bournemouth University with a 2:1 degree in Multi-Media Journalism in 2007.
A keen League of Legends and World of Warcraft player, he has written for a range of publications including GamesTM, Nintendo Official Magazine, industry publication MCV as well as Riot Games and others. He works as full-time content director for the British Esports Association and runs ENUK in his spare time.