This weekend will see thousands of UK CS:GO fans head to Wembley Arena to watch the ECS finals. Following on from two months of online play, the finals will be host to the best eight teams from across Europe and North America. Ahead of the tournament Esports News UK sat down with French legend, Kenny "KennyS" Schrub to gain an insight to the new G2 line-up. We have just seen another French shuffle, which is still going on for some players, so ENUK went to somebody who is an instrumental figure in the professional French scene to try and discover more about the team, its expectations and the steps the AWPer himself had taken to practice individually in an attempt to reach his legendary peak.
A last-minute roster change saw two players in the form of Kévin "Ex6TenZ" Droolans and Edouard "SmithZz" Dubourdeaux joining the G2 roster and one player, Richard "Shox" Papillon, return to its active line-up. The roster change, which saw Dan "Apex" Madesclaire and Nathan "NBK" Schmitt move onto the bench, was teased for weeks prior to the event but came as a shock due to its somewhat last-minute announcement. The seemingly rushed nature of the move calls into question what sort of result the French line-up can achieve but Kenny seemed confident.
"It's really nice for us [Shox, Ex6TenZ and KennyS] to be reunited," said KennyS when asked about the changes seen at G2 and what he hoped the roster would achieve. "This team has a good potential because we have the players and the chemistry is great." The legendary AWPer then described how, "Chemistry is something really under-rated within a team", and that they're extremely hopeful for the future.
"To be honest we don't really care about the criticism, I think none of us care. We did what we think is the best for us."
Although the roster changes seen over in G2 have some CS:GO fans excited, others are more wary and believe having both Ex6TenZ and SmithZz in the same roster would lead to the squad lacking firepower. Unsurprisingly, KennyS doesn't agree with that too much.
"To be honest we don't really care about the criticism, I think none of us care," said KennyS. "We did what we think is the best for us. All of the players, including Ex6TenZ, have been really different from how I remember them. He [Ex6TenZ] has been doing individually really good in practice."
Kenny then defended his teammate SmithZz by saying, "What SmithZz can bring to a team can't be missed", and explained how the player is, "Really supportive and makes the players around him play better." He concluded by saying, "I doubt that the fire-power issue will be an issue for much longer."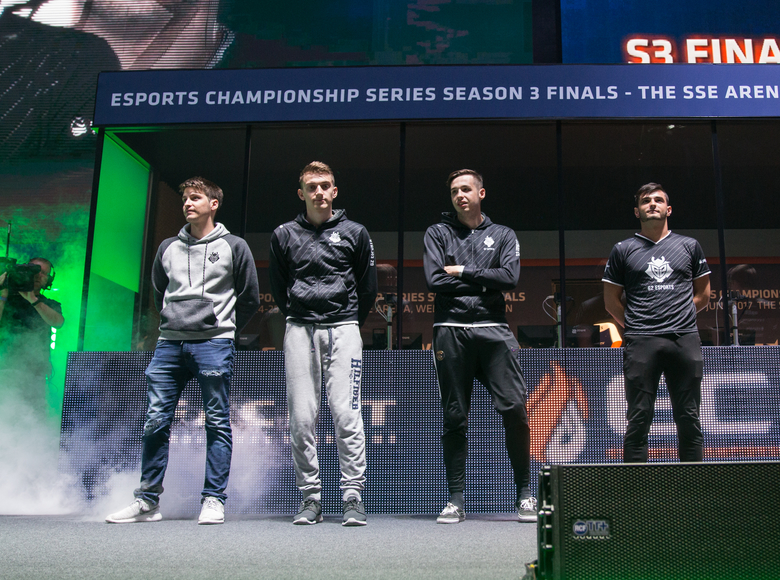 Whilst KennyS has always been able to boast the ability of being a star AWPer, back in 2014 the Frenchman was on a different level; the extent to which many graced him with the prestigious title of being the greatest of all time. Since then however, Kenny's form has fallen off to some degree and so due to this, ENUK asked the Major MVP what steps he had taken to try and return to his former level of peak performance that warranted him being dubbed 'King Kenny'.
"Well let's say that I had a really terrible year in 2018," said KennyS. "Personal wise first of all, game wise, so it has been really hard for me to focus on the game. [I] went through a lot of things lately so I'm still trying to bounce back from it. I also know what I'm capable of, and I also know that I played well in the past and I've still managed to win titles, so I'm obviously not at my best, but it's been hard for me."


At ECS G2 ended up falling to NRG in their opening match, a result that would surprise many people, especially given the 16-4 scoreline. NRG have certainly been on a good run of form recently, but even so Kenny was confident this new roster would be able to take them down.
"They [NRG] were already pretty good and capable of upsets, but if we manage to play like we should play, I think we are better," said KennyS. "They are the kind of team that's going to punish you if you are not playing 100% and they've proven they are both a team to be respected and a dangerous team to face."
"I think that if we attend the Major we will be definitely be a challenger to win it, that's our objective."
Whilst it's still three and a half months away, the FACEIT Major will see KennyS and the rest of G2 return to Wembley and is surely the main goal for this new look roster. So we asked about his ambitions for the Major and if he believed having the firepower of Shox and leadership of Ex6TenZ would help their prospects in the UK's first CS:GO Major.
"I think that if we attend the Major we will be definitely be a challenger to win it, that's our objective," said KennyS. "We are actually thinking short-term right now. We fixed objectives which are to prepare for here, to prepare for the season as well. We just try to take it game by game, practice by practise and just trying to improve and move on right now."
Kenny went on to elaborate by saying, "We don't necessarily think about the Major right now, but that the main objective is to be ready and confident for the Major. Ex6TenZ's leadership has been missed, he has something about him that makes you want to listen to him and that that is an important element within an IGL."
G2 may not have performed as well as they had hoped at ECS, but the future certainly looks bright for this very talented lineup, and it certainly wouldn't be a surprise to see them do well when they return to Wembley for the Major in September.
For more information on the ECS finals in Wembley check out pre-event summary here.
Jamie has been following competitive Counter-Strike for roughly four years and has fallen in love with esports ever since, slowly branching out into other titles and learning more about the industry. He has recently started an esports degree in London.
"I started playing CSGO when I first got my own PC and haven't really stopped ever since," he said. "After playing more competitively I opened my eyes to esports and have been doing my best to learn as much as possible about both the competitive side within CSGO and the business side across the industry as a whole.
"Much of my work so far has consisted of interviews, however I hope to branch out in the future and write more content about Counter-Strike."