Things are getting a bit shirty in the UK esports scene.
ESL UK will be taping over Gfinity Elite Series logos on the shirts of two teams at the ESL Premiership finals this weekend.
Reason Gaming and Team EndPoint will have the Gfinity logos on their sleeves covered up by ESL before the players enter the stage. The finals are taking place at EGX 2017 at the Birmingham NEC.
Both Reason and EndPoint took part in the recent Gfinity Elite Series, and as part of their arrangement with Gfinity, have Elite Series logos on their jerseys' sleeves.
It's not really a surprise to see this happen – ESL and Gfinity are rival esports tournament organisers.
However, Gfinity have a stake in Reason Gaming. And both them and EndPoint also take part in the Gfinity Elite Series, a league that adopts a franchising model, where certain revenues are shared among the teams taking part.

"You'll have to speak with ESL about their tournament organisation and rules. We are solely focused on growing the UK esports scene."
Gfinity

It raises an important point around a tournament organiser owning part of a team, and the complications of entering other events held by rival organisers.
For example, part of any prize money won by Reason would, in a way, go through to Gfinity.
A Gfinity spokesperson said: "You'll have to speak with ESL about their tournament organisation and rules. We are solely focused on growing the UK esports scene."
Team EndPoint CEO Adam Jessop added: "Our inclusion within the Gfinity Elite Series and participation in ESL Premiership competitions are both things we are very proud of. Each tournament series have gone a long way in supporting the UK esports scene, and we are extremely happy to take part in them and fulfil obligations to both parties."
It's not the first time logos have been covered up on esports jerseys – Riot asked pro League of Legends teams to cover up G2A logos on their shirts a few years back.
ESL previously banned Team YP for being sponsored by and displaying the logo of porn website YouPorn.
Esports News UK has reached out to ESL and Reason for comment.
You can see the logos on the Reason shirt at the top of this article and the logos on the EndPoint shirt below:



Reason photo credit: Joe Brady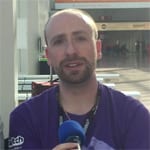 Dom is an award-winning writer who graduated from Bournemouth University with a 2:1 degree in Multi-Media Journalism in 2007.
A keen League of Legends and World of Warcraft player, he has written for a range of publications including GamesTM, Nintendo Official Magazine, industry publication MCV as well as Riot Games and others. He works as full-time content director for the British Esports Association and runs ENUK in his spare time.