UK Pro Evolution Soccer player and 2015 PES League winner Ali "Bad_Boy_G" Sufi has spoken about why the UK lags behind other countries.
Speaking to Gamereactor at the recent PES League Road to Cardiff qualifier tournament at Anfield stadium, he said: "We just don't play enough. It's just the time and effort. Me and [fellow UK PES player] DexK, we have a lot of commitments, we do our jobs 9 to 5.
"I guess it's just that extra time that we don't put in, compared to the other countries. Some of the other countries do have a big community and they meet up together and play offline, which does give you that extra edge.
"Going forward for the UK maybe we can try and get more offline community tournaments. More time and practice will give us a better chance in the future."

"Going forward for the UK maybe we can try and get more offline community tournaments. More time and practice will give us a better chance in the future."

Football esports games have grown in stature enormously in recent years. EA is running a $1.3 million FIFA Ultimate Team Championship Series this year, and the FIFA Interactive World Cup now boasts a $300,000 prize pool (up from $26,000 last year).
The PES League, meanwhile, has a $200,000 prize pool. And let's not forget all the football esports pros being snapped up by football clubs, from West Ham to Manchester City, Roma, PSG and many more.
On the overall growth in football esports, Ali told Esports Pro: "We've had the first PES player Lennao signed to a football club now. He's a gem player and is making decent money.
"It's promising for us players that we could actually sign for a football club and there's so many perks on that. Going to these tournaments, you get to meet various people.
"Just the connections we make and being able to go to all these different countries free of charge with everything paid…. I think I'll be playing for a couple more years to come."
The PES League world finals take place in Cardiff from June 2nd to 3rd.
Hide our ads and become a premium reader to support ENUK today from just £1 per month!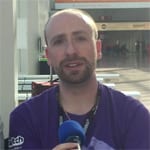 Dom is an award-winning writer who graduated from Bournemouth University with a 2:1 degree in Multi-Media Journalism in 2007.
A keen League player and WoW RPer, he has written for a range of publications including Games TM, Nintendo Official Magazine, games industry publication MCV as well as Riot Games. He currently works as full-time content director for the British Esports Association.