UK video games trade body Ukie has today published an esports whitepaper, outlining industry opportunities, growth areas and recommendations to government.
In this article, we've dissected the full 20-page whitepaper and pulled out 13 key points.
The whitepaper – launched at London's Gfinity Arena – was produced in conjunction with 'the UK esports sector' (think major team owners like Fnatic, publishers and developers like Hi-Rez, as well as other industry professionals like ESL, Gfinity, FaceIT, GAME and Multiplay).
UK Culture Minister Matt Hancock also spoke at the event via an on-screen video.
The general gist of the paper is very much that esports is growing, and that the UK should be doing more to capitalise on it.
Here are our highlights and some of the key messages from the whitepaper:

1. 'We can make the UK the leading global destination for esports' 
Dr Jo Twist OBE, CEO of Ukie, shared her views on esports and the whitepaper.
She said: "Esports – and in particular live tournament events – offer huge opportunities across the UK in job creation, local economic growth, tourism, new skills development, and giving a clear signal to the world about our ambitions around technology, innovation and creativity. The aim of this whitepaper is to give some context of this global industry.
"For some time, we have been proposing that esports in the UK could be a high value opportunity for the economy, provided the right infrastructure and support is in place so we can compete at a global level.
"We hope this is the start of an ongoing discussion around esports. [We want to] promote and grow the esports opportunity in the UK. We can make the UK the leading global destination for esports."
2. Can the UK really become a global esports hub?
Ukie mentions several times throughout the whitepaper the possibility of the UK becoming a 'global hub for esports'.
"A thriving esports sector can drive economic growth throughout the UK, provide highly skilled jobs and create a diverse and hugely accessible ecosystem," it states.
"The UK is perfectly placed to become a global hub for esports."
Ukie mentions several tournaments and organisations based in the UK, including Multiplay, Gfinity, ESL, publishers and more.
It's a bold ambition, and one we like the sound of – but it's certainly not going to be easy reaching it.
.
3. There's a shortage of UK talent – but Ukie says we can produce the best players in the world
It's great to see Ukie recognising the grassroots and not just focusing on the big tournaments that have taken place in the UK.
The trade body says: "There is a shortage of top homegrown UK superstars playing esports at the very highest level and a limited flow of talent coming from amateur esports leagues.
"This requires more support for training facilities for top players such as the [British Esports Association's] potential National Training Centre at Pinewood and to support more grassroots initiatives.
"The country's schools, universities, towns, cities, regions and nations can become the breeding grounds for the best esports players, leagues, broadcasters, sponsors and tournaments in the world.
"The sustainable support of the grassroots and amateur scene is key to the long term success of esports in the UK."
Ukie praises ESL for the UK Premiership series and the NUEL for its university esports leagues (and the fact it has more than 3,000 players representing 110 of the UK's universities).
.
4. The Government needs to 'get' esports
"There is a need for the esports sector to speak with a clear voice to the UK government," Ukie says.
"The UK needs a strategy to attract big international tournaments and we need Westminster and local government to understand and support the sector.
"The sector wants to maintain an open and informative relationship with government and the wider business and investment sector.
"The ambition should be to integrate esports opportunities into the government's trade and investment work and the growth strategies for LEPs and local authorities around the country, and proactively encourage major esports businesses and tournaments to be established in towns, cities and regions throughout the UK."
.
5. An esports council should be created
Ukie suggests a new council should be formed, made up of Ukie's existing Esports Group and other stakeholders, and meet twice a year.
"The council would not have any executive powers or governance over the sector but would help align UK esports related activity," Ukie states.
.
6. A 'highly skilled' workforce is key
It is calling for more esports pros and workers to speak to youngsters and give guest lectures at universities, for example, and says that more can be done to encourage people to consider careers in the esports sector.
Ukie also says it's important to have employment figures for the esports sector.
.
7. A school esports tournament has been announced

Ukie announced it will be supporting the Digital Schoolhouse powered by PlayStation to hold its first schools esports tournament in 2017.
Digital Schoolhouse is a new national programme that will reach an estimated 15,000 pupils and over 1,600 teachers from 19 schools across England in its first academic year.
It hosts a series of free creative workshops for kids, and now the campaign is tapping into esports.

8. More needs to be done to make esports diverse
"More needs to be done to encourage not just women but more people from diverse backgrounds to consider esports as career or as players or professionals," Ukie says.
.
9. The UK will have eight million esports fans

In this section, it looks like Ukie is referring to some Newzoo data around the popularity of esports in the UK.
The whitepaper states that the UK esports audience is set to grow from 6.5m in 2016 to 8m in 2019, with a cumulative annual growth rate of 7.5%.

10. The UK lags behind other countries in esports
Ukie compares the UK to China, South Korea, USA, Germany and Scandinavia in its report.
"The UK already has a well-established esports fanbase yet it lags behind some other international markets as a major esports destination," it says.
"The UK needs to produce world class esports events on a par with the UK's reputation for hosting other global esports events. This country can teach the very top of the esports leagues."
11. Five barriers are holding UK esports back
While the UK esports audience is growing (as mentioned above), Ukie says this growth "does not match that of other major esports markets".
Barriers highlighted by Ukie include:
Low levels of awareness and understanding of the esports sector amongst the wider UK population, policy makers, potential investors and commercial sponsors at a local and national level

No coordinated support from policy makers throughout the country

Little celebration or promotion of the achievements that British esports has achieved to date and is working on right now

No coordinated support for improving skills and inspiring the next generation of highly skilled talent to play, make and produce esports in the UK

Inadequate broadband reach and low connection speeds
12. We should be mindful of 'restrictive immigration policies'
Ukie says that immigration policies could become 'a major barrier to the UK becoming a major esports destination'.
The trade body talks about effective visas for players who may only need to be in a country for a few days' time.
It also states that esports players and other pros need to be recognised as 'a highly skilled and inclusive profession'.
13. What needs to change? Ukie outlines 8 esports recommendations
Finally, the trade body has outlined eight recommendations for how the UK can become a global leader in esports.
1. The esports sector should work with government to develop a 'compelling trade and investment offer' to attract the biggest esports events and broadcasters to the UK, and enable UK companies to succeed internationally.
2. Government should incentivise the delivery of superfast broadband that matches market leaders such as South Korea (which has an average broadband speed of 27MB per second) – and develop a strategy for the UK to become a world leader in 5G.
3. The sector should coordinate itself as an industry group, possibly via a UK esports council to share information and encourage best practice.
4. Industry and government should develop a methodology for more accurately measuring the UK esports sector.
5. Government should consider the needs of esports businesses and players in the area of skills and immigration (this section mentions visas and the importance of recognising esports as a profession).
"Esports players and other pros must be recognised as a highly skilled and inclusive profession," Ukie states.
6. The UK's existing games industry education courses should include esports modules.
7. Esports companies should support sustainable initiatives that promote and inspire diversity in esports.
8. 15 UK esports ambassadors should be formed to promote esports in the UK and internationally (a mix of players, developers, publishers and event organisers).
The full whitepaper 
You can read the whitepaper in full via this digital version:


Reaction on social media
Excited to be formally launching our 2016 #esports Whitepaper today at @Gfinity arena London this afternoon pic.twitter.com/BqMECMKTaO

— Ukie (@uk_ie) 28 November 2016
UK Culture Minister @MattHancockMP showing support for #esports sector and @uk_ie Whitepaper #thefutureofesports #gamedev pic.twitter.com/Wh4jJTUr14

— David W. Smith (@davidsmithuk) 28 November 2016
Sorry I couldn't be there – working together we can make the UK a world-leader in #esports @uk_ie https://t.co/qFirDNX4gc

— Matt Hancock (@MattHancockMP) November 28, 2016
Great day at the launch of @uk_ie's white paper for growth of UK esports. Proud to have contributed. Lots to do in 2017!

— Jas Purewal (@gamerlaw) November 28, 2016
Excellent from @uk_ie & UK Govt on the front foot for UK #esports White Paper exactly what's needed going forward.?? https://t.co/frRwfryj2C

— Jonathan Beales (@Jonathanbeales) November 28, 2016
Yeah I'm late to this, but just fell in love with #RocketLeague thanks to the @uk_ie event promoting UK eSports.#Gfinity in Fulham pic.twitter.com/3ay52vQweC

— Stuart Dinsey (@Sdinsey1) November 28, 2016
The @uk_ie esports white paper launch at Gfinity has our @TheVarsityGames branding still up! pic.twitter.com/k2oQpF6A8J

— Sujoy Roy (@sujoy_r) November 28, 2016
Excited to be casting the Rocket League Exhibition match at the @uk_ie whitepaper launch today. Fantastic to see esports growing like this.

— Daniel Gaskin (@DanGaskin) November 28, 2016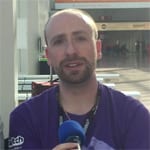 Dom is an award-winning writer who graduated from Bournemouth University with a 2:1 degree in Multi-Media Journalism in 2007.
A keen League of Legends and World of Warcraft player, he has written for a range of publications including GamesTM, Nintendo Official Magazine, industry publication MCV as well as Riot Games and others. He works as full-time content director for the British Esports Association and runs ENUK in his spare time.