Fnatic has revealed why the eSports organisation keep the location of their gaming house in Berlin secret – and why girls aren't allowed to visit.
"Wherever the players go, and whoever they speak to on their time off, we always keep the location of the house a secret when meeting new people," says League of Legends team manager Finlay "Quaye" Stewart in Fnatic's new book.
"If it was public knowledge we would constantly have people waiting for us outside – I'm not sure how many, exactly, but I could imagine double digits over the course of a week.
"That could disrupt our preparation, especially when leaving for matches in the LCS."
Finlay continued: "I also have a rule about girls: only girlfriends are allowed in the house. No players can bring back, for want of a better word, a random for the night.
"If this girl is a big fan of the team, what's to stop her sharing the location with people on Twitter? Honestly, if that got out there it'd be a real problem – we'd simply have so many people milling around, outside the house."
Five other interesting tidbits from Fnatic's book
1. Fnatic was founded on £5,000
Fnatic founder Sam Mathews started up the organisation after taking advice from his mum Anne. He sold his car and used £5,000 to start up Fnatic.
2. The BBC was worried about its LoL coverage
Last year the BBC covered the League of Legends World Championship quarter finals in London.
Presenter Julia Hardy said in the Fnatic book: "The BBC were a little tentative, a little worried about the reaction. But the response to our coverage was so overwhelmingly positive, because people could see the potential for covering this more in the future."
3. Fnatic's comments on FORG1VEN
League of Legends team manager Finlay "Quaye" Stewart commented on H2K ADC Konstantinos "FORG1VEN" Tzortziou.
"Historically, he's been good enough to carry some games completely," he said, "but that didn't make up for the fact that he would be abusing his teammates, calling them out and having just a terrible attitude.
"So even this player, who is incredibly skilled, doesn't cut it because he's not a team player. This is a team game and at the end of the day you need players that are skilled, of course, but also that gel together."
4. Yellowstar wants to write his own book
Bora "YellOwStaR" Kim, Fnatic's support who has just retired as a pro, reflected on his time as a player.
"If I look back at how I was before starting eSports, compared to where I am now, I would say that I have come a long way, and have grown a lot. And I want to write my own book, that's a point of reference for other people, to know what it's like to do this.
"I want parents to have something to look at, to understand when their own son or daughter is in the same situation. It's all becoming more and more professional."
5. UK eSports is still sh*t


A UK League of Legends player had a special mention in the book. Well, not a mention as such, but a picture of Fnatic killing him to secure first blood (we love you, Maxlore).
Still, it was Maxlore who had the last laugh as he helped Giants get revenge on Fnatic and beat them 2-0.

Disclaimer: eSports News UK was not approached by Fnatic to promote their book. We simply saw a few interesting points after reading it and wanted to share them.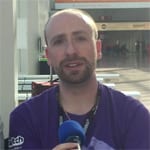 Dom is an award-winning writer who graduated from Bournemouth University with a 2:1 degree in Multi-Media Journalism in 2007.
A keen League of Legends and World of Warcraft player, he has written for a range of publications including GamesTM, Nintendo Official Magazine, industry publication MCV as well as Riot Games and others. He works as full-time content director for the British Esports Association and runs ENUK in his spare time.