eSports News UK speaks to ESL UK host, caster, community/social media manager (and dank memlord) Richard Simms about the weekend's Halo EU finals.
Taking place at ESL's UK studios in Leicester, the event will feature four of the top EU teams, playing for an overall prize pool of $67,000.

ENUK: What can we expect from the EU Halo finals this weekend? Are there any storylines or particular match-ups we should look out for? 
Richard Simms: Currently, newly acquired (just this week) team FabE are 10 and 0 in the pro league, along with having undoubtedly some of the best players in Europe. This team also boasts a 30-map win rate, which is the more than any team in both the EU and NA pro leagues.
They are certainly one to keep an eye out for, more so as certain players of this roster were a part of a disastrous crash-and-burn Dignitas roster last year. The team was set to qualify for the Halo World Championship and were highly looked up to as a team to challenge NA dominance, but in a whirlwind collapse against French and German teams, they never made it out of groups.
What are your own predictions for the weekend?
FabE, XMEN, VIBE and Team Infused, in that order, with both VIBE and Infused more than capable of upsetting a team or two.
"If you are tuning in this weekend, keep an eye on UK player Snipedrone. As the name suggests, once he gets that specific weapon in hand, things can get quite fiery!"

As a site that focuses mainly on UK League of Legends, can you give us and our readers a bit of background to the Halo Championship Series?
The HCS is the official Halo eSports circuit in partnership with 343 and Xbox. The HCS originally started back on MCC primarily in the NA, but with Halo 5 came both the NA and EU pro leagues, both with open circuits running side by side.
The open circuit gives players not part of the pro league opportunities to play high level Halo eSports weekly and a $1,000 per week, per region prize pool. All in all the HCS is growing and expanding Halo esports across the face of Europe but also opening it up to the more casual player by giving online open events with a direct relegation phase potentially letting new players enter the pro leagues.
Please tell us about your background in casting and your time casting the Pro League.
I started off casually casting back on Halo 4 after I attempted to make a return to the competitive circuit, but flopped massively.
After EGL9 I started casting both Halo 4 and some throwback Halo 3 events. From here MCC was launched and during this time I met and got to cast with Alex "GoldenboyFTW" Mendez, who gave me a lot of help and advice on both casting as a profession, but also casting in general.
From those events, I was then approached by ESL and offered an amazing opportunity to cast the HCS Season 1 finals. Since then I've been lucky enough to be a part of the core Halo eSports team and furthermore become a full-time in-house caster for ESL UK.
Twitter eSports Clips of the Week!

#3 "Where did this kid come from?! #HCS" by @HCS featuring @HukeFPShttps://t.co/CEyFeBFByq

— Twitter Gaming (@TwitterGaming) July 19, 2016
What are your current thoughts on Halo as an eSport, compared to other big titles like CSGO and League?
As a Halo 2 player/fanboy, Halo will always be my passion and in my heart. I think the best thing I love about this job and what I try to show in my casting is how much I enjoy seeing what's on screen as the viewer at home.
While I've been here at ESL I've worked on ESL One and CSGO Pro League, yes there is certainly a difference in the size of both games, but I always put this down to PC vs Xbox and you can't really compare the two, it's just the way of the world.
When it comes to games versus games, I'm not one to start putting games against each other too much, I'm a big fan of saying if you enjoy something as an eSport, then it does matter too much about other people's games.
Halo, like CSGO, has a very deep and rich history, along with a longstanding community – and the community is one thing I really do enjoy about Halo, both the EU and NA scenes. This also comes to light when we look at the Halo World Championship and the crowd funding.
The Halo scene added $1.5 million to an already $1 million pot, making the entire thing the ninth largest prize pool for a game in history – and the world's largest console prize pool in history.
Is there much of a local Halo scene in the UK, or is more of a popular eSport in the US/Europe as a whole?
100%, there has always been a thriving UK community along with smaller French and German communities, but altogether we are one EU community now, as we see more and more players crossing over team-wise with one another, and teams practicing against one another, plus with the EU Pro League it brings us all together.
Without question, NA is larger, but that comes down to a rich NA history from back in the days of Halo 2 and 3 along with the talent pool which NA has always offered up.
The Buk Brothers (featured in our top UK streamers list) have built up a following in the UK, but which other UK Halo players should we look out for?
Respectful is currently in my eyes – and many others – the number one player in the EU right now, he's still got quite a bit to prove as he has yet to win an event!
If you are tuning in this weekend, also keep an eye on Snipedrone. As the name suggests, once he gets that specific weapon in hand, things can get quite fiery!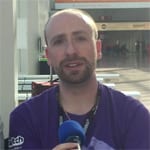 Dom is an award-winning writer who graduated from Bournemouth University with a 2:1 degree in Multi-Media Journalism in 2007.
A keen League of Legends and World of Warcraft player, he has written for a range of publications including GamesTM, Nintendo Official Magazine, industry publication MCV as well as Riot Games and others. He works as full-time content director for the British Esports Association and runs ENUK in his spare time.