Forget Lord Bendtner. Step aside Kevin De Bruyne. German football club Wolfsburg has a new star signing – but he's not a footballer. He's a gamer.
Well-established German Bundesliga football team VfL Wolfsburg launched an eSports division last year and signed pro FIFA player and four times German champion Benedikt 'Salz0r' Saltze.
Now it's growing its ranks further with the addition of 22-year-old UK pro David "Davebtw" Bytheway. The Wolverhampton-born pro came runner-up at the FIFA World Championships in Rio in 2014 and competed as the English finalist at FIWC in 2015.
He was interviewed on football game-focused BBC show The Beautiful Gamers this week, and said he hopes Wolfsburg's efforts in this area will inspire other football teams around the world to introduce their own eSports teams.
David said: "Last year Wolfsburg entered the competitive FIFA scene and took on a German FIFA player to represent them, and now they've taken on me. So I'm an official Wolfsburg FIFA player.
"Competitive gaming as a whole is absolutely huge, although FIFA isn't as big as it could be. The fact that a team like Wolfsburg are getting involved… I'm hoping it's going to create a domino effect and all of the other teams get involved as well. It's a big deal for gaming and a big deal for me as well."

"We recognise eSports as being important and want to be a leader amongst Bundesliga clubs in this area."
Klaus Allofs, VfL Wolfsburg

The fact that a top-tier German football team (founded in 1945) has signed a FIFA pro from the UK says a lot about the talent of football game pros on our shores, and can only bode well for the future of the competitive gaming scene.
The deal was struck through agency STARK eSports, which signed a one-year collaboration with Wolfsburg. In addition, the football club signed its first eSports sponsorship agreement with NEEDforSEAT.
Wolfsburg's director of sport Klaus Allofs commented: "We recognise eSports as being important and want to be a leader amongst Bundesliga clubs in this area.
"Our goal is to create a binding connection between real football and the digital version. FIFA is becoming more and more realistic from year to year and it enjoys great resonance amongst the professional players and fans alike."
The UK has a number of pro FIFA gamers, including Spencer "HugeGorilla" Ealing, who was one of the top ten highest earning UK eSports pros of 2015.
Hide our ads and become a premium reader to support ENUK today from just £1 per month!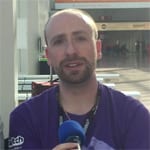 Dom is an award-winning writer who graduated from Bournemouth University with a 2:1 degree in Multi-Media Journalism in 2007.
A keen League player and WoW RPer, he has written for a range of publications including Games TM, Nintendo Official Magazine, games industry publication MCV as well as Riot Games. He currently works as full-time content director for the British Esports Association.