Choke Gaming turned around a 1-0 deficit to win 2-1 in today's ESL UK Premiership League of Legends match against Exertus Esports (streamed here). This means either FM or Team Infused will now play the fourth-placed team in the league (Exertus) in the semi-final next month.
Riot was streaming the match from its client, meaning almost 2,000 viewers were watching it live – great for UK eSports.
However, Choke were docked three minor penalty points as The Hadow fielded a banned skin (Ghost Bride Morgana). Every minor penalty point deducts 1% of the overall prize money received by the team, or player in the tournament they are given. It was the second time The Hadow had fielded this banned skin.

Choke Gaming vs Exertus Esports
Game 1
Line-ups: 
Choke: numlocked (top), Dongs (jungle), Ravenno (mid), Joekerism (ADC), The Hadow (support)
Exertus: Miven Rain (top), Dan (jungle), Dxalchemist (mid), Sir Scott (ADC), Wizz (support)
Exertus started off on the front foot, with Sir Scott picking up three kills by the five-minute mark as Vayne, following his fine form in Exertus' previous match.
numlocked and other Choke members tried to stop Exertus' dominant bot lane at 11 minutes in, but some great teamplay by Exertus saw Sir Scott pick up his fourth kill, while Miven Rain and Dan picked up a kill each too.
Sir Scott roamed top a few minutes later, taking a tower.
Choke picked up their first kill just afterwards, with Ravenno picking off Riven Main bot, but Exertus took a second top tower moments later.
Choke then pushed aggressively mid, taking down Dan and TWO mid-lane towers, for Exertus to come back and take their second dragon of the game.
Around 20 minutes, Miven and Ravenno fought hard 1v1 in the top-lane, resulting in them killing each other at the same time! Exertus then took the bot inhibitor, with Ravenno shutting down Sir Scott, who had 7/1/2 at this point.
Choke took the initiative to kill Miven and take the Baron, then minutes later the top inhibitor.
At 25 minutes, Sir Scott tried a back door, but only managed to take one Nexus turret before Choke came to the rescue to shut him down.
Exertus pushed back hard mid, taking the inhibitor turret after killing two members of Choke.
The game was absolute carnage, with a huge messy teamfight near Baron on the half-hour mark, leaving the scores at 21-10 to Exertus.
But after things slowed down, at the 40 minute mark Exertus made another strong push mid, with Sir Scott Condemning numlocked into his own Nexus, stunning him and finishing him off, before taking game.
Game 2
Line-ups: 
Choke: numlocked (Olaf top), Dongs (Lee Sin jungle), Ravenno (Ahri mid), Joekerism (Miss Fortune ADC), The Hadow (Alistar support)
Exertus: Miven Rain (Irelia top), Dan (Rek'Sai jungle), Dxalchemist (Viktor mid), Sir Scott (Vayne ADC), Wizz (Thresh support)
Choke started off incredibly aggressive in game two, taking two towers bot within the first five minutes.
Dan picked up the first blood against Ravenno mid, with Sir Scott and Miven Rain taking another kill each top moments later.
Exertus looked like they'd turned a corner in this match, and really made life difficult for Choke.
Wizz hooked a beautiful Death Sentence into Dongs, helping Dxalchemist score a double-kill in Choke's top jungle. 5-0 to Exertus.
On the 12-minute mark, Exertus were 9-1 up, with 22.9k to Choke's 18.4k. Miven Rain was 4/1/1 and Sir Scott 3/0/2 at this point.
Sir Scott took the Rift Herald to push top, however Choke did pick up two kills in the bot jungle to make it 10-4.
Choke made another positive move 20 minutes in, taking down another two Exertus players in their bot jungle, including Wizz, after a superb kick from Dongs. As caster Sona said, "the Thresh Prince of bel-air is no more."
numlocked hid in the bush top, catching Miven Rain off guard, with Dongs coming in to help secure the kill. 10-8 to Exertus.
Another teamfight bot saw Dongs lead Choke into battle, leaving the game tied at 12-12 at the 25-minute mark, before Choke took their second dragon of the game.
Like game one, the match slowed down at this point (30 minutes in), with both teams biding their time.
After Dan got picked up and killed by the Baron, Choke took the front foot, chasing Sir Scott down. While he had super low health, Sir Scott managed to finish off one of his assailants before attempting to take down numlocked in almost an incredible play, but other Choke members were there to finish him off. 17-14 to Choke.
Joekerism secured a triple-kill, before Choke took Baron at 35 minutes in. A few minutes later, this gave them the impetus to push mid and take out Exertus, winning the game 26-17.
Game 3
Line-ups: 
Choke: numlocked (Olaf top), Dongs (Rek'Sai jungle), Ravenno (Ahri mid), Joekerism (Miss Fortune ADC), The Hadow (Alistar support)
Exertus: Miven Rain (Hecarim top), Dan (Lee Sin jungle), Dxalchemist (Kassadin mid), Sir Scott (Vayne ADC), Wizz (Thresh support)
Choke decided to keep their team comp the same as game two, and why not?
First blood went to Ravenno mid, who picked off Dan as Ahri.
A teamfight bot saw Ravenno and numlocked – the deadly former Turkish LCS duo – take a double-kill each, putting Choke 5-1 up.
Choke secured some more kills bot at the 12-minute mark, but Miven Rain quickly teleported in to charge forward as Hecarim to pick off two Choke players who were trying desperately to escape. 9-5 to Choke.
Choke then pushed top to take the top inhibitor, and at this point (20 minutes) looked like they'd go on to win the game.
A few minutes later, Choke took the Baron as the team traded blows, leaving it 11-8 to Choke. Miven Rain tried again to charge into Choke but numlocked pushed him away from Choke's mid tower.
Choke then proceeded to push the botlane aggressively, picking off Exertus one by one, winning the game – and the match.
NUEL vs Team Paria
This rescheduled match was supposed to take place yesterday (Friday November 20th), but with only one player from Team Paria turning up, ESL UK issued a default loss and penalty points passed to Paria for the no-show.
NUEL picked up the automatic win.
NUEL also beat TCA in a rescheduled match a few days ago.
FM-eSports vs Team Infused
This will take place on Sunday at 4.30pm. Check back tomorrow for a review of that match, and the final ESL UK Premiership LoL standings going into the finals.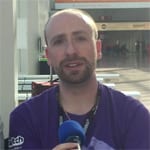 Dom is an award-winning writer who graduated from Bournemouth University with a 2:1 degree in Multi-Media Journalism in 2007.
A keen League of Legends and World of Warcraft player, he has written for a range of publications including GamesTM, Nintendo Official Magazine, industry publication MCV as well as Riot Games and others. He works as full-time content director for the British Esports Association and runs ENUK in his spare time.