Team Infused secured a 2-0 victory over Exertus Esports in a rescheduled match tonight, putting them level on points with FM-eSports and Exertus, and just three points behind Choke Gaming (who beat FM on the weekend, and are sitting top of the League of Legends ESL UK Premiership).
With another game in hand (they are due to play Team Paria in a rescheduled match, who we understand may forfeit), Team Infused are within scratching distance of joining Choke at the top of the league table.

It was an even start in game one between Infused and Exertus, with both teams tied at 5-5 from 13 minutes to the 19-minute mark. Exertus took the front foot forward at this point, winning a team fight mid to go 10-5 ahead, but as the game eased in, Infused clawed their way back to make it 14-14 at the 35-minute mark.
A very dramatic teamfight at 45 minutes in Exertus' base saw Infused just about ace Exertus to win the game.
Exertus would have felt hard done by, as they were in the lead for large parts of the game, but positioning and timing was a little off in that final team fight.
It was a shame, as the win to Infused didn't really reflect the game, especially as Exertus' ADC Sir Scott put in a phenomenal performance, going 14/3/6 with Miss Fortune, with a whopping 423 CS. He caused Infused all kinds of problems, and they will be glad to have got the win while having to deal with that monster in the Rift.

After winning the first game, it didn't look like they'd let their lead slip, and Infused went on to punish Exertus for their little mistakes in game two.
While Exertus were the early game masters again, getting ahead by a kill or two, an assault on Infused's top area of the jungle went awry after Exertus got a little greedy in a hunt for a few more kills.
Infused's jungler Maxlore (Lee Sin) made a brave 3vs1 play, kicking Sir Scott back and breaking up Exertus, before Infused's top-laner Captain Alphari (Malphite) came to the rescue to help finish them off, making it 8-6 to Infused at this point.
After an aggressive push mid by Infused to make it 16-8, in the end, it was Exertus who surrendered in game two at the 23-minute mark, giving the series to Infused.
The match was streamed on the League_UK stream rather than the official ESL UK one, as it was a rescheduled mid-week evening match.
Line-ups
Team Infused:
Captain Alphari (top)
Maxlore (jungle)
Charlietea (mid)
Infused UK POILK (ADC)
Arphan (support)
Exertus Esports:
Krisso (top)
Exertus Dan (jungle)
Brixton (mid)
Sir Scott (ADC)
Exertus Wizz (support)
Here's the current ESL UK League of Legends Premiership Standings (as of November 11th):
Choke Gaming – 15 points (five matches)
FM-eSports – 12 points (five matches)
Exertus Esports – 12 points (five matches)
Team Infused – 12 points (four matches)
NUEL – 3 points (five matches)
Terra Cotta Army – 3 points (five matches)
Team Paria – 0 points (four matches)
exceL eSports – 0 points (five matches)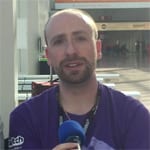 Dom is an award-winning writer who graduated from Bournemouth University with a 2:1 degree in Multi-Media Journalism in 2007.
A keen League of Legends and World of Warcraft player, he has written for a range of publications including GamesTM, Nintendo Official Magazine, industry publication MCV as well as Riot Games and others. He works as full-time content director for the British Esports Association and runs ENUK in his spare time.