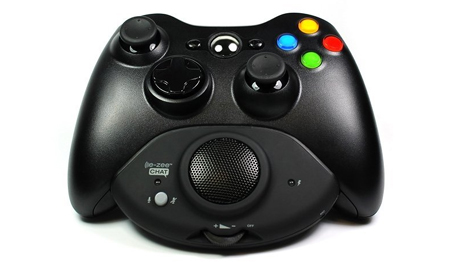 If you've ever wanted to chat to your friends online while gaming without using a headset, then the E-zee Chat all-in-one microphone and speaker accessory for Xbox 360 and PS3 is aimed at you.
We get to grips with the device and find out how it compares to a traditional headset.

Product: E-zee Chat Wireless Gaming Communicator
Platform: PS3, 360 (360 version tested)
Release Date: Out now (available via Xbite)
Price: £24.99
Reviewer: Dom Sacco
The E-zee chat is very simple to set up – far easier than a headset. You just connect it to the bottom of the Xbox 360 controller (see image above) or the top of the PS3 controller, so the speaker is facing you.
The idea is that you can hear your friends talking via the accessory's speaker as if they were playing in the same room as you, making online Call of Duty and FIFA sessions a bit more social than usual. It's great because you can also hear outside noises while gaming (whether it's your mobile phone, the doorbell or your mum shouting at you to come downstairs for dinner – all easily ignorable things when wearing a headset). The flipside is everyone in the room will be able to hear what your friends or other gamers are saying to you, including that whiny little American kid who feels the need to swear at his team and make awful jokes every few seconds.
You can simply plug and play straight out of the box, though the E-zee Chat instruction manual does recommend charging the device by connecting it to your console via the included 2m USB lead first. The built-in rechargeable battery is pretty decent too, boasting a five-hour talk time.
Slide the volume dial to the left to switch the E-zee Chat on, or press the button on the left to mute the mic, which is located just to the bottom right of the unit.
How does it sound?
I must admit I was a little sceptical as to the 2w speaker's quality when I first laid eyes on the E-zee Chat, but after trying it out with several friends over Xbox Live, I have to say I'm impressed. It's loud, clear and does the job almost perfectly – even when several players talk at the same time.
It does make it seem like your friends are in the same room as you, making it suitable for more private four-player games like traditional FPS deathmatches and and co-op titles like Borderlands.
Obviously it can't match the quality of some of the higher-end headsets, which make it sound like your friends are talking right into your ear drums, but that's not always a good thing (we've all got one of those talkative mates with a screechy annoying voice).
The only real problem for us is the microphone. Upon first using the E-zee Chat, a friend of mine said over Xbox Live: "Are you okay Dom? You sound like you're in a tin."
I purposely hadn't told him I was using the E-zee Chat in order to get a genuine reaction out of him. That said, I usually wear a Turtle Beach headset with a close, flexible microphone, which would be unfair to directly compare with the E-zee. They are different beasts; a headset is more like a hulking tank of a warrior while the E-zee is a more nimble swordsman.
However, once I turned down the volume slightly, my friend could hear me slightly better.
Another aspect of the E-zee Chat I wasn't sure of is the idea that your friends will be able to hear themselves talking with the E-zee's mic being close to its speaker. But thankfully this isn't the case – most probably because their voices are directed towards the user, meaning the mic only really picks up your voice.
The positioning is decent, too. It's very light so it doesn't weigh down your controller, and I didn't feel the need to move my controller closer towards my mouth for the E-zee Chat to pick up my voice – it felt natural using the device.
If you're the kind of gamer who prefers to have fun online multiplayer matches with a few friends rather than take part in more hardcore or esports-style games, I would recommend the E-zee Chat, but only if you're comfortable with the other people in your house hearing your friends while you game.

Verdict
Small and functional, the E-zee Chat accessory is a great alternative to a traditional gaming headset. It's ideal for scrupulous gamers who want to avoid wires and paying over the odds for a bulky headset.
7/10
Pros:
 Light, easy to use, no wires (other than the charge cable), no earache, decent speaker for the price
Cons:
 Everyone else in your room can hear what your friends are saying, mic not as quality as a headset's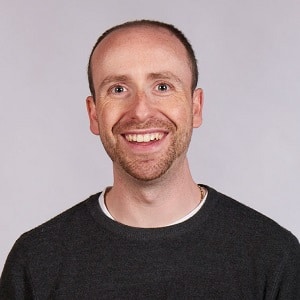 Dom is an award-winning writer who graduated from Bournemouth University with a 2:1 degree in Multi-Media Journalism in 2007.
As a long-time gamer having first picked up the NES controller in the late '80s, he has written for a range of publications including GamesTM, Nintendo Official Magazine, industry publication MCV as well as Riot Games and others. He worked as head of content for the British Esports Association up until February 2021, when he stepped back to work full-time on Esports News UK and as an esports consultant helping brands and businesses better understand the industry.