What? Leet is evolving… again?
That's right – to celebrate us hitting 100,000 monthly page impressions, we're now going to be encompassing esports industry news, content, guides, interviews and features. Read on the find out why and how.

Two years ago we began focusing on game guides, tips and videos. From today we'll be focusing on esports too. We will continue to post guides and hardware reviews in the future (like our video look at the PS Vita Travel Kit and Turtle Beach PX21 review), but with a sharper focus on esports news, events and products in particular.
Leet has always been about providing information to you – gamers – about honing your skills, whether it's our Skyrim: How to be a master thief feature, Halo Reach multiplayer tips or FIFA 12 tackling guide.
We've always been about striving to help you play video games as best and as competitively as you can (when we're not posting joke videos about our noob DayZ adventures, of course).
That was our initial mission statement, and it remains so today.
But we can't ignore the fast growing world of esports and professional gaming. After all, we have previously posted interviews with pro gaming teams such as Halo's Team Slayer. Pro gaming tournaments are becoming more and more prominent every year, the quality of matches is increasing at a rapid pace and there are hundreds of excellent products and services emerging.
We want to be a strong part of this exciting expansion in the video games industry.
If you're a pro gamer, sponsor, organiser, agent, caster, team or whatever else – we want to hear from you and support you. Perhaps we can run a profile on you guys, an interview, or run a piece of news you have.
If you have any requests, editorial, advertising or otherwise, or press releases to send us, please email dom@leetgamesblog.com.
We also have a growing Facebook, Twitter and YouTube following, with fresh video content, so be sure to follow us and check out our content.
We're looking forward to upgrading the site for you in the months and years to come.
Hide our ads and become a premium reader to support ENUK today from just £1 per month!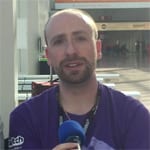 Dom is an award-winning writer who graduated from Bournemouth University with a 2:1 degree in Multi-Media Journalism in 2007.
A keen League player and WoW RPer, he has written for a range of publications including Games TM, Nintendo Official Magazine, games industry publication MCV as well as Riot Games. He currently works as full-time content director for the British Esports Association.