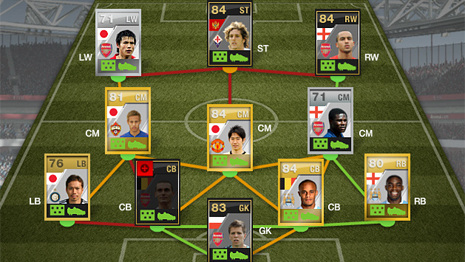 Ever wanted to make a footballing super squad in FIFA Ultimate Team and maintain a full chemistry rating of 100 to ensure the team plays well?
There are a number of ways to do so – read on for our hybrid team guide.

1. Pick your star players
To begin with, select two or three footballers you really like and you can base your team around them.
For example, we chose super in-form Stefan Jovetic from Serie A's Fiorentina as a striker, Keisuke Honda from CSKA Moscow in the Russian League, as central midfielder, and the Premier League's Thomas Vermaelen, who plays as a centre-back for Arsenal.
Three different players with three different nationalities and leagues.
2. Form up
Next you'll want to choose your formation to complement your squad. Some formations have different chemistry set ups. For example, 4-3-3 requires your central defenders to have chemistry with the two midfielders above them, but 4-1-2-1-2 doesn't.
Take the time to explore the different formation options and start thinking about linking up players with simple connections, like the same nationality, to boost your chemistry. Make sure you buy a manager suited to your formation. It'll also help if he shares his nationality or club with the majority of players on your team.
For more information on how chemistry works, read our FIFA Ultimate Team complete guide.
3. Paying complements
Start to choose players that complement your star men. For example, to give Honda chemistry, we've paired him with Kagawa in midfield, who is also Japanese. Plus, we've put Arsenal's Japanese youngster Miyaichi on the left wing, and Inter Milan's Japanese left-back Nagatomo in defense.
So, our left side of our team is predominantly Japanese, and our right side is English. We've got Walcott in RW position, Frimpong in CM and Richards at right-back.
Our two central defenders are both from Belgium and play in the Premier League – Kompany and Vermaelen – so they have strong chemistry. Then we have Arsenal's Szczesny in goal, who plays for the same team as Vermaelen.
For our striker, we've gone with our key player Stefan Jovetic, who is dissimilar to anyone on the pitch. He plays in Serie A for Fiorentina and he's Montenegro-born.
4. Super subs
One sneaky thing you can do is put a low-chemistry player on your bench, then substitute him on once you start the match. He'll have a player chemistry number that is dependent on your overall chemistry score. Some reports online say this is worked out by taking your overall chemistry score (say 100) then dividing it by 11. So his chemistry rating will be 9, even if it normally would be 6 if you had put him in the starting 11.
5. Watch out for player chemistry
You may have an overall team chemistry of 100, but be wary that some individual players may have lower chemistry than others. For example our Jovetic has 6 for chemistry while other players like Kompany have 9.
This means Jovetic will not get himself into key areas at the right time, like he would if he was playing in a Serie A/Fiorentina/Montenegro side.
Video
This video explains more about team chemistry in FIFA Ultimate Team:

Hide our ads and become a premium reader to support ENUK today from just £1 per month!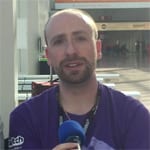 Dom is an award-winning writer who graduated from Bournemouth University with a 2:1 degree in Multi-Media Journalism in 2007.
A keen League of Legends and World of Warcraft player, he has written for a range of publications including GamesTM, Nintendo Official Magazine, industry publication MCV as well as Riot Games and others. He works as full-time content director for the British Esports Association and runs ENUK in his spare time.