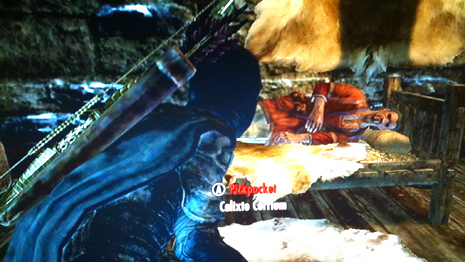 It may not be the most heroic class in Skyrim, but playing as a thief is arguably one of the most fun (and profitable) experiences you can have in the game.
We show you the best weapons, armour and accessories for thieves, what skills to level up, how to make loads of money and sneak like the best of them in our Skyrim thief guide. Note: Spoilers.

Choose a sneaky character
At the start of the game pick a race that lends itself well to stealing and being light on your feet. The Khajit or Wood Elf are both wise choices. For more information on racial perks read our Skyrim skills and race guide.
You'll want to focus on the Sneak, Lockpicking and Pickpocket skill trees, as well as the Light Armour, Archery and One-Handed trees depending on how you want your character to feel. Speech and Alchemy can also be useful to have.
Get a skill boost
Near the start of the game you'll come across three skill stones. Make sure you select the Thief Stone and you'll level up your thievery skills 20% faster than usual.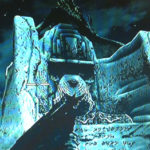 Learn to Sneak
Click the left analog stick in to make your character sneak. In this mode, it's harder for you to be spotted by enemies, and you'll get attack bonuses for firing an arrow or swinging your weapon at someone.
Get into the habit of sneaking around new areas if you're not sure if there are enemies. If the sneak line in the centre of the screen starts to widen into the shape of an eye, someone is suspicious you're around. Move behind an object or into the shadow and wait for 'hidden' to appear again. Get really good at this and you'll even be able to sneak up on sleeping dragons (see above).
Join the Thieves Guild
This one goes without saying. Head to Riften and go into the Bee and the Barb inn. Talk to Brynjolf to start the quest line. You can get to Riften by heading to the far South East or bottom-right of the map. You can also pay a horse and cart rider to take you there.
Even if you don't want to be a thief it's well worth joining the guild. You'll get some of the best equipment in the game and make loads of money along the way. Make sure you talk to Delvin and Vex to complete extra side missions for more loot and money.

Make invisibility potions
At an alchemy table mix Chaurus Eggs with Ice Wraith Teeth to make your own invisibility potions. Make around ten of these, highlight them in your inventory and press Y (or Triangle on the PS3) to favourite them. While playing in normal time, press up or down on the D-pad to quickly access your favourites and select Invisibility Potion to use one. These are handy for when you want to sneak past an enemy or two in a difficult-to-sneak area.
You can find loads of Charus Eggs deep in Raldbthar which is in between Lake Yorgrim and the White River. You can find Ice Wraiths in particularly cold areas such as Ancients Ascent.
Get married
You might think getting married as a thief is a bad idea, but it's not if you want to make some extra money. Read our Skyrim: How to get married guide and head to Shor's Stone in The Rift. You'll want to marry Sylgja. Upon moving in with her, she'll open a shop and earn 100g for you every day. You can also sell stuff to her to make more money.
We bought the house in Riften so we were close to the Thieves Guild. You can buy this by becoming Thane of Riften. Just help out characters in Riften with mini-quests and you'll eventually be asked to visit the Jarl, who lets you purchase the property.
Get the right garb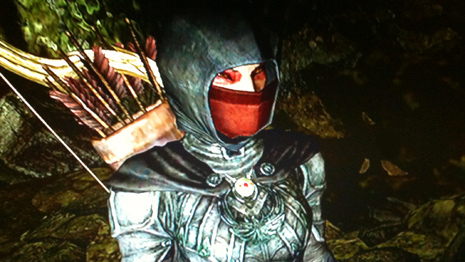 You'll want equipment that gives a boost to things like sneak attacks, sneaking, pickpocketing, one-handed, lockpicking and archery.
Joining the Thieves Guild is a good start. After a mission or two you'll get the Thieves Guild armour which gives you a boost to sneaking, picking pockets, lockpicking and bartering. Joining the Dark Brotherhood is worth it too if you like to kill as you sneak. To start this quest, talk to inkeepers in Riften to start the Innocence Lost quest. Alternatively, head to Windhelm and break into the house of Aventus Aretino.
Know how to kill
Thieving is the most important thing, but killing quickly and quietly is also essential for any master thief. The Dark Brotherhood's fingerless gloves will double your single-handed sneak attacks. Combine this with the Assassin's Blade technique in the Sneak skill tree and your stealth backstabs will now do 30x normal damage (this requires a Sneak skill of 50 to unlock). Also, make sure you pick up Deadly Aim in the same skill tree (40 Sneak skill required) to do 3x normal damage when sneaking with a bow. And always aim for the head.
Find a decent bow
For a great starting bow, go back to the Bee and the Barb in Riften and take on the drinking challenge from the guy at the bar. Make sure you save the game first before talking to him. Complete that hilarious questline (A Night to Remember) and towards the end you'll have to go through a portal. Look left before entering and you'll find a treasure chest. There's an Elven Bow inside, which not only looks the part, but packs a mean punch too.
Find a decent dagger
You can find and steal a great starting dagger in the College of Winterhold. It's an Elven Dagger and can be found in the grand mage's room. You can also buy a dagger and enchant it yourself.
Mehrune's Razor is also a particularly special dagger. You can get this by completing the Pieces of the Past quest which can be picked up by visiting the museum in Dawnstar.
Think like a thief
Get out of the mindset that stealing is bad. Ignore the red text when you hover over an item that's not yours. Treat every object you want as an item that's ripe for the taking. As long as you're hidden, it's yours.
When you're breaking and entering, scout the place out first in the daytime. Find out where the beds and chairs are, as the owner could be sitting there when you return. Go back at night (after 8pm) and plunder. Make sure you stay sneaking and always close doors behind you. You can often steal items in the day, as long as no-one else can see you.
Make a mint
Sell stolen goods to fence characters. These include:
Tonilia in the Thieves' Guild, Riften
Mallus Maccius in Honningbrew Meadery, South-East of Whiterun (after the Dampened Spirits quest)
Gulum-Ei in The Winking Skeever, Solitude (after the Scoundrel's Folly quest)
Enthir in Winterhold (after the Hard Answers quest)
Complete the extra Thieves' Guild quests with Vex and Delvin to unlock more
Avoid getting  arrested when you have stolen goods. You'll have to spend time escaping and searching the prison for the Evidence Chest with all your stuff in. Get skilled at spotting valuable items and you'll have that 40G achievement for reaching 100,000 gold in no time.
You can also unlock a perk at Speech level 70 which lets you invest in stores so merchants can buy up to thousands of gold in goods off you each day.
Steal anything (almost)
To take advantage of a hilarious and cheeky exploit, view our How to steal almost anything in Skyrim video guide.
Pay off guards
Even if you get caught, if you're in the Thieves Guild or have the 'Bribery' perk in the Speech skill tree, you'll be able to pay around 100g to pay a guard to forget the crime.
Make your own gear
Find items that have decent enchantments on them, such as Necklace of Deft Hands (+15% pickpocketing) or Ring of Minor Archery (+15% Archery). Use an Enchantment table to disenchant them and learn how to make your own items.
Taking a standard Dwarven Dagger and adding +10 Fire Damage to it is also handy for assassinating someone. We named that particular blade Phoenix. Why not make your own?
Learn to lockpick
Even if you don't have any lockpick skills, you can still unlock Expert and Master locks. It's just harder. Make sure you have a large amount of lockpicks on you (we always carry at least 80), start on the far left hand side and work your way around clockwise. When picking a lock, tap the right stick every few notches to see if the lock turns.
Once you've found the sweet spot, hold the right stick very lightly. If the pick snaps, move the next lockpick a notch or two to the right or left of where you had it positioned before. Eventually you'll find that perfect point and the lock will open. Even if you break lockpicks, your lockpicking skill will still improve.
Know your Shadowmarks
In the main central room in the Thieves Guild, search the tables for a book on Shadowmarks, written by fellow thief Delvin Mallory. It's worth keeping this in your inventory.
The book lists all the Shadowmarks – small etchings outside houses and next to doors which indicate whether the place is good to plunder or a dangerous area. The Shadowmarks are as follows:
Thanks to The Unofficial Elder Scrolls Pages.
Discover sneaky shouts
Killing dragons and finding shout stones aren't without their benefits for a thief.
The following are useful:
Aura Whisper – detects life around you (find this from inside a dragon's lair, Northwind Summit, The Rift, and inside Volunruud in The Reach. You can find another during The Silence Has Been Broken Dark  Brotherhood quest).
Throw Voice – tricks your enemies into thinking you're somewhere else (get this from Shearpoint, The Pale)
Whirlwind – lets you escape quickly by running fast (obtained from The Way of the Voice main questline)
Find The Shadow Stone
After a while, once your thief skills are high enough, you might want to change your 20%+ levelling up bonus for the ability to turn invisible for 60 seconds once per day.
You can get this by activating The Shadow Stone, which can be found south of Riften. You'll have to kill a necromancer to gain access to it (or just activate it and run for the hills).
The Nightingales: Fact or Fiction?
Warning: Spoilers.
Progress through the Thieves Guild questline and you'll eventually hear about these.
By the end of the questline, you'll have the awesome Nightingale Armour, bow, sword and a skeleton key which is an unbreakable lockpick. Choose to complete the last quest (Darkness Returns), and you'll exchange the skeleton key for access to one of three awesome perks. It's worth it, as if you level your lockpicking up far enough you won't need the skeleton key.
If you don't like a perk, you can always change to another one by returning to the Twilight Sepulcher. You can only do this once a day.
The perks – which you can also use just once a day – are:
Agent of Stealth – This lets you turn invisible (not necessary if you have The Shadow Stone, unless you want two stealth perks for every 24 in-game hours)
Agent of Subterfuge – Makes enemies fight among themselves (this is a lot better than it sounds and our choice of Nightingale skills)
Agent of Strife – Lets you draw health from an enemy
What are your top tips and tricks for thievery in Skyrim? Let us know in the comments box below.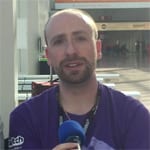 Dom is an award-winning writer who graduated from Bournemouth University with a 2:1 degree in Multi-Media Journalism in 2007.
A keen League of Legends and World of Warcraft player, he has written for a range of publications including GamesTM, Nintendo Official Magazine, industry publication MCV as well as Riot Games and others. He works as full-time content director for the British Esports Association and runs ENUK in his spare time.