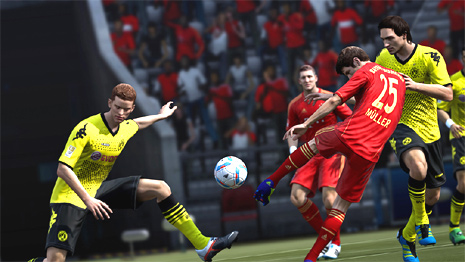 FIFA 12 allows players to shoot, pass and chip the ball more beautifully than before.
In this guide we show you how to score like a pro.

What to look for in a striker
First you'll need to pick the best forward on your team or sign one in career mode. You'll want a footballer that has high ratings in the following:
Finishing
Shot Power
Long Shots
Volleys
Reactions
Ball Control
FK Acc. (if you want to score from free kicks)
Heading Acc. (if you want to score from corners etc with your head)
The following traits are useful:
Long Shot Taker
Finesse Shot
Power Free-Kick
Power Header
Flair
As are these specialties:
Distance Shooter
Clinical Finisher
Complete Forward
Aerial Threat (for headers)
Acrobat (for bicycle kicks etc)
Poacher
Free Kick Specialist
When to shoot
Using the B or Circle buttons on Xbox 360 or PS3 respectively is enough to get you through the game well, but knowing when to shoot can make all the difference.
Generally you'll want to get into a position that:
Has a clear space in front of your player
Isn't too far out (the edge of the box is fine, but halfway line stuff is rarely ever worth it)
Has you facing the opposition's goal (unless you want to do a bicycle kick or other acrobatic shot)
Presents you with an angle that isn't ludicrous (shooting from the corner flag is a waste)
How to shoot
Once you're in a good spot, hold down the shoot button for less than a second and aim towards goal. If you're running and have kicked the ball  slightly ahead of you, you can hold it a little longer before releasing.
Don't hold the button down too much or you'll sky it.
Hold the left analog stick up or down slightly while shooting to change the shot's direction. Push it too far and the shot will go wide, too little and it will hardly move. Not at all and your shot will go towards the centre of the goal. Pushing towards the goal will add topspin, pushing away will add backspin.
Remember – every player is different. Some will keep shots low even when you've held the button for a while.
Finesse Shots
Hold the RB (360) or R1 (PS3) button while shooting and your player will fire a softer yet more accurate shot, with a slight curl. These are ideal for shooting the ball around a keeper diagonally when one-on-one, or if you're inside the penalty box. They will often go right into the corner of the net.
Obviously if your player has the Finesse Shot trait he will be even better at pulling these off.
Flair Shots
Hold the LT (360) or L2 (PS3) button then press shoot to command your player to pull off a more stylish shot at goal. If you're running towards goal and hold this button before shooting, the shot is generally a lot faster and more powerful than usual. It's ideal for slotting low balls quickly into one end of the net.
The Flair Shot can also be useful when the ball is in the air. Hold it down before shooting and – depending on your player's position – he will attempt an overhead kick, bicycle kick or scorpion kick. Pulling one of these off will unlock the in-game 50G Riding Bikes achievement. It can be used to pull off diving headers too.
Flair shots can be used from low crosses too – your player will flick the ball into the net with style.
If your player has the Flair trait, he will be able to pull these off more effectively.
Here's one we made earlier:

Chip Shots
Hold the LB (360) or L1 (PS3) button to initiate a lob. These are great if the keeper has stepped quite a way off his line or is running out towards you. These shots take a little bit of practice, but look amazing when done correctly.
Combination Shots
Why not combine these special shots together, for example try a flair finesse shot by holding LT and RB before shooting. Experiment with shooting while running or walking too, so you get used to how shots differ depending on your situation.
Finesse passing
You can also hold down RB or R1 when pressing the pass button to pull off a fancy flick pass. Players with high skill moves and the Flair trait will be better at doing these. Hold RB or R1 when crossing or lobbing the ball to another player to keep the chip low and fast.
Flair passing
Hold LT or L1 when passing to keep the pass accurate and slow, or when chipping the ball to a teammate to make your player kick the ball stylishly and make the ball float more in the air.
Special crosses
Hold LB or L1 when chipping the ball to make your player perform an early cross into the opponent's penalty box. Hold it when pressing the through ball button to make your player perform a lofted through ball.
When you're down the wing, double tap the cross button to pull off a lower cross, ideal for bicycle kicks, or triple tap it to keep the cross low and deadly.
FIFA 12 video: Shooting and passing like a pro

More Leet  FIFA 12 tips and tricks
We hope this guide helped. You can share any of your tips or comments in the box below.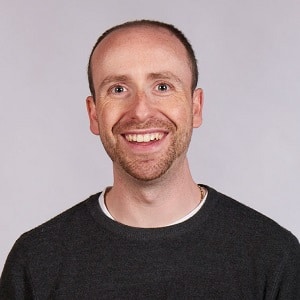 Dom is an award-winning writer who graduated from Bournemouth University with a 2:1 degree in Multi-Media Journalism in 2007.
As a long-time gamer having first picked up the NES controller in the late '80s, he has written for a range of publications including GamesTM, Nintendo Official Magazine, industry publication MCV as well as Riot Games and others. He worked as head of content for the British Esports Association up until February 2021, when he stepped back to work full-time on Esports News UK and as an esports consultant helping brands and businesses better understand the industry.