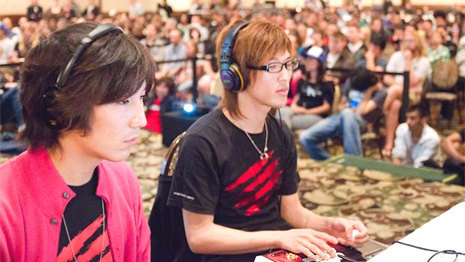 Street Fighter pro Daigo Umehara took home $10,000 after winning the 2011 ReveLAtions game tournament undefeated last month.
It was a sweet victory for Team Mad Catz as Daigo's team mate TOPANGA.Mago finished in second place with $3,000 winnings.
The pair fended off over 400 other competitive gamers taking part in the Super Street Fighter IV Arcade Edition tournament.
Daigo also went on to win first place in the Street Fighter II Turbo.  Both players used Mad Catz Street Fighter IV Tournament Edition Fighting Sticks.
The team finished fourth at the recent Shadowloo Showdown 2011, with Poongko coming out on top.
The final standings from ReveLAtions 2011 are as follows:
Daigo 'THE BEAST' Umehara | Tokyo, JPN – Yun
TOPANGA.Mago the '2DGOD' | Tokyo, JPN – Fei Long, Sagat
Hsien Chang | Texas – Yun
BROKENTIER.Latif | Arizona – C. Viper
INFILTRATION | S. Korea – Akuma
ClakeyD | California – Ibuki (joint fifth)
WolfKrone | Michigan – C. Viper
ROM | California – Yang (joint seventh)