UK-based esports jobs site Hitmarker is a business on a mission. Having raised £200,000 as part of a crowdfunding push last year, it's now back with another raise on Crowdcube to really take it to the next level.
Esports News UK asks Hitmarker MD Richard Huggan all about the raise, why it's doing a second round, the site's humble beginnings and more in this in-depth interview.
Please tell us about Hitmarker's history so far. What position was it in when it was founded, and how has it changed to where it is today?
Like so many esports companies and organisations, Hitmarker was started from a bedroom back in the middle of 2017 and was a volunteer-run operation until November of that year when I came on board and we decided to really go for it.
My younger brother Phil is the founder of the company. He's a web designer/developer and was working on a job platform in traditional sport, which led him to think that creating something similar for esports would be a good idea. He got permission from his client and recruited some friends from the esports scene to help him get the ball rolling.
There was clearly a need for a one-stop-shop hiring solution in the space, and the platform has grown so much in a relatively short space of time.
Back when Hitmarker started, the guys would be running it in their spare time, finding and posting two or three esports jobs per day. We're now at a point where we've got a team of 10 full-time staff working from two continents, and we're disappointed if we don't post 50+ esports jobs in a day.
Remind us about Hitmarker's first raise on Crowdcube last year. What was your initial goal and what did you raise in the end?
This time last year we were a company of five full-time staff working from Newcastle upon Tyne, which is our hometown. We'd had our first really strong quarter in terms of revenue thanks to successive profitable months in July, August, and September, and had a very clear choice to make.
Either we continue on as a small, sustainable operation and making incrementally more money month-on-month, or we go looking for some serious investment to drive the business forward.
We obviously went down the second road, which led us to having a couple of poor experiences with VCs before diving into equity crowdfunding as a way of allowing Hitmarker users and people from the wider esports community to own a slice of our company.
We went live on November 1st 2019 with a minimum target of £80,000 and the ambition of reaching £200,000 before December. We hit our minimum target on day three and hit our upper limit on day seven, which blew our minds.
This funding has allowed us to expand out into the wider video game industry from just covering esports. That means that we now have 12,000+ live jobs on Hitmarker rather than the 1,000+ we had before. That alone gives you an idea of the size of the market we're now covering.
Tell us about Hitmarker's second raise. What are your aims this time around, how much do you hope to raise?
We're back on Crowdcube as of lunchtime (GMT) on Friday November 27th, but this time we're looking to raise £200,000 as a minimum, rather than a maximum. We'd ideally like to reach double that figure to do what we want to do in the next couple of years, but if it takes off like it did last year raising three times that amount isn't out of the question.
Our absolute maximum is around £650,000, which would mean that 20% of Hitmarker is owned by Crowdcube investors.
That feels extremely ambitious at this early stage of proceedings, even though we've raised over £100,000 from our existing pool of investors!
You've grown and developed a lot over the past year. What will you use the funding for in the next stage in Hitmarker's journey?
Last year the raise was all about moving into the wider video game industry from esports. We all love esports here at Hitmarker and that will always be our bread and butter, but it's still a relatively small piece of the overall industry.
What we were finding was that our ceiling in esports was around 1,000 new opportunities per month and that only around 75-80% of those were paid.
Moving into the wider industry means that we've now got 12,000+ jobs and 97%+ of those are paid. That's a huge difference in terms of volume and quality and we think the vast, vast majority of those jobs are still highly relevant to our existing esports audience.
However, because Hitmarker is an English-only platform we're still only reaching around 20% of the overall video game audience with our jobs, if Newzoo's numbers are right, at least!
We want to further expand our coverage by starting to roll out fully localised hiring platforms for key markets like Brazil, Spain, Japan and China over the next 12 months.
After that, we're looking at places like India, Vietnam, Thailand, and Indonesia, which are all growing incredibly quickly, and hoping that the likes of France and Germany will be at a point in terms of employment opportunities that it's worth building French and German platforms too.
When I say "fully localised" I mean that everything will be presented in the relevant native language, including social media marketing, customer support, and business development. That's the next stage for us and it's quite an exciting thought that we could have half-a-dozen Hitmarker platforms by 2022, instead of just the one we have now.
I find it surprising there doesn't seem to be much competition for you in the esports jobs market. Why do you think this is? Is it because esports is still growing – and is that why you're branching out to also advertise general games industry jobs as well as esports?
There was plenty of competition when we started. At the point Hitmarker launched in May 2017 we had ReKTGlobal, The Esports Observer, and the Gamurs Group all had pretty active jobs sites! Those are some major, major names in the industry.
However, when I came into the business in November 2017 one of the first things I did was a full competitor analysis to see where we were behind and where we could get ahead.
Not to be too brutal here, but I then made it my mission to surpass all of those companies across every conceivable metric and to take as much market share from them as possible.
None of them were presenting a genuinely good solution to their users, largely because all of them had significant interests elsewhere that they were prioritising. I understood that, but I didn't really like it. So one advantage we had was that we were just a jobs site.
I think it's fair to say it didn't take us long to become the leader in the space and, while ReKT and Gamurs still have their sites live, they're barely active and neither has a social media presence. TEO has made the decision to drop jobs from their site altogether.
Hitmarker having no competition isn't an accident. I'd welcome some at this stage, though because there was nothing quite like the feeling of playing 'catch up' with genuine endemic competitors who gave as good as they got at times.
These days. we're focused more on trying to attract users from the likes of Indeed and LinkedIn, who both have surprisingly large presences in our industry and tend to be the go-to for hiring companies. When people find out that there's a free-to-use endemic solution with such a large database of qualified and passionate candidates it tends to be an easy sell!
What are the key things you've learnt since setting Hitmarker up, perhaps about the esports jobs market/your core customers etc?
I've learned a huge amount because I made the jump to esports from traditional sport and from performance analysis/betting to what is, at its core, a recruitment tool.
So not only did I change the industry I was working in, but I also completely changed the sector I was working in as well, which meant I had a lot to pick up on!
I have been surprised by how immature the esports jobs market is, to be truthful, although now that I've been in the space a few years I do understand why it is that way. So many companies are similar to Hitmarker in that they were started off by an individual or a group of friends and staff-wise they might still only be sub-10 or sub-20.
They might not have an HR professional or an HR team to call on, so you find a lot of founders and management staff running the end-to-end hiring processes. This can be true even for companies that from the outside looking in seem to be huge multi-million operations.
What this adds up to mean is that you get quite unprofessional hiring processes, unfortunately. Not for any malicious reason or because people are just unprofessional themselves, but because the people hiring tend to have a million other day-to-day responsibilities that demand their attention.
Replying to everyone who applies to your open position on Hitmarker maybe isn't a top priority for them, as much of a shame as that is.
Having learned this, though, we can now look to improve things. So that's been a key revelation for me, having seen how 'good' hiring processes look from a more established industry.
We can actively try to help ease the time burden on hiring companies and individuals while presenting candidates who apply to their jobs with more information. That's what we're working towards at the moment and we could do a much, much better job of it than we are now.
In terms of our customers, I've learned that the amount of talent in the esports space and the amount of passion for this industry is beyond what I have ever experienced before. I worked as an unpaid intern in professional football for two years because I absolutely loved the sport and knew it would be beneficial for my future in the industry to do that.
Every day we see and hear from people who are at least as passionate about esports as I was about football, which really blows my mind.
The people are what make esports so special and I have never been part of a more welcoming and community-spirited industry. The industry can be brutal at times, too, though, which gives it a real sense of excitement.
What's the size of the UK esports jobs market at the moment, are there any stats and facts you can share?
This won't make for pretty reading, but I genuinely despair about the state of the employment market in UK esports at the moment. COVID has done a real number on employment prospects in a lot of industries over here, but when 38 of 12,000+ live jobs (less than 0.3%) on Hitmarker are tagged as "paid", "esports" and located in the UK I can't help but be worried by that.
There is so, so much talent in this country and so many of esports' huge personalities are British, but the jobs market has been ravaged by the pandemic. It's such a shame because at the beginning of 2020 we were only seeing positive trends, and as a British company ourselves we were delighted by that.
However, as long as people can make it through this and we get somewhere back to normal in early 2021 I don't see any reason why things can't get back on track. While the employment opportunities have shrunk due to COVID, there's no doubt that awareness of and interest in our industry has grown because of it too.
I hope that's short-term pain for long-term gain, and that in the long-run esports will get to where it's going a lot faster than it would have otherwise. This industry is going to be a behemoth, there's no doubt about that.
Crowdfunding seems to be becoming more of a trend in the industry now, what with Fnatic's recent raise, and the likes of Dexerto, Ginx and Juked also getting involved. Why do you think more companies are going down this route?
Personally speaking, it's because we didn't really trust any of the venture capital firms we spoke to before deciding to crowdfund! None of them got esports and all of them had too many opinions on how we should be running our business before they even had a stake in it.
Imagine what that could have become had they ended up with 10, 15, or 20%. It was all about the money, the service provided and ethics of the business were, at best, secondary considerations. They all wanted to stick their own non-executive director on our board to 'support' us, too, which we were never comfortable with.
I can't speak for Fnatic, Dexerto, Ginx or Juked – who I'm 100% sure all can and do get a lot of support from more traditional investors – but we knew that we'd built a really engaged community of people that we'd helped and who appreciated us because of that, so we felt like giving them the option of sharing in our future success financially was a good way to go.
It still felt like a huge gamble to take, but it paid off to the extent that we're going through the pain and nervousness of the whole process all over again!
For the others, especially in Fnatic's case, I think it comes back to the passion I mentioned earlier. Fnatic has hundreds of thousands of incredibly passionate fans and is a huge, huge brand, so Fnatic crowdfunding looks like a no-brainer to me.
They're able to be a bit more aggressive with their valuation than they could be if raising from traditional sources (much like we have been), and they're going to end up with thousands of people who feel an even closer bond to their brand because they own a small piece of it.
I wouldn't ever say Hitmarker raising on Crowdcube was a game-changer for the UK esports industry, but Fnatic doing it just might be!
Do you think we'll see more teams choose this option in the future, both at a pro and amateur level?
100%, yes. The more success other esports companies have with crowdfunding, the more aware of esports as an investment opportunity more casual investors become and the more chance of success the next esports-related raise will have.
There is clearly considerable money in the crowdfunding community and a serious appetite to invest in a fast-growing, exciting market like esports that ticks all the right boxes in terms of its demographic. As more companies realise their routes to revenue and develop their businesses, I'm sure we'll see more people raising in this manner.
I think it'd be extremely difficult for an amateur organisation to do anything significant, but if it was just a case of getting enough cash to bootstrap for a year or two to see if traction could be achieved, then it's definitely not out of the question. There would have to be a strong team behind it and the brand would have to look good and sound good, though.
Not everyone has been successful in the world of crowdfunding. What are the challenges you've faced, what should others bear in mind when offering crowdfunding?
Crowdfunding might look easy from the outside, but it takes months of preparation and work to get everything to the point where it's ready to present in a video, pitch page, or business plan. Our first pitch took us three months of hard work to create and coordinate, and this second one has easily taken half of that!
You need to know you've got some cornerstone investment to get the ball rolling. You have to have a solid business model. You have to be solving a problem or to have great traction if you really aren't. You have to show potential investors that there is a plan to get them a return. Your pitch materials have to look great and be easily understood.
Ticking all of those boxes isn't easy. Crowdfunding isn't charity, remember, so you have to be prepared to earn it and it takes an awful lot of time and a fair bit of skill to put together a really great crowdfunding campaign.
As well as the success stories we've seen in terms of companies equity crowdfunding, I've seen an equal number of pretty awful pitches that haven't got any traction and have ended up failing.
Some have launched without videos, some haven't been transparent enough and have failed to include key financial information that all potential investors have a right to be privy to, and some have clearly just expected to hit their funding goal 'because esports'. The industry alone isn't 'sexy' enough to do all of the work for a brand, unfortunately!
I'm always happy to help and give advice to people thinking about equity crowdfunding or Kickstarter campaigns, but I'll be honest when I do so. It's a great option for some brands, but definitely not all, and people need to know the sort of time commitment it requires.
Why Crowdcube, what in particular attracted you to this service?
The honest answer, again? We wanted to go with Seedrs (Crowdcube's major competitor) originally because it offered a secondary market where Hitmarker investors could trade their shares with one another or with people looking to buy into the company at a later date.
Giving people a tangible way to get a return on their investment was hugely important to us, as that's not something that comes easily to startup investors.
However, having gone through the on-boarding process with Seedrs and uploading all of our pitch materials and video, the communication from their side just totally dried up. We were up against it time-wise with Christmas approaching and so had to make adjustments to the pitch copy to get it to fit on Crowdcube's platform and to get everything rushed through by their team.
I still don't know how we did it, but we did, and Crowdcube's customer service and communication were both light years ahead of Seedrs'.
The two companies are merging together soon, funnily enough, and I genuinely hope it's going to be a mix of Seedrs' tech (which is clearly superior) and Crowdcube's customer service/campaign management. That would be one hell of a formidable platform, especially with that secondary market that I mentioned.
I only have good things to say about Crowdcube overall, and would highly recommend them. They've been a good partner to us and clearly have a huge audience of investors on the platforms.
What are your long-term aims and ambitions for Hitmarker?
Hitmarker was started as a volunteer passion project for the esports community and has grown to become something much bigger than I think Phil ever anticipated.
We're now at a point where it's realistic to say that we can grow Hitmarker to become a company that's worth at least £20m in the next five years. We'll be disappointed if we don't do that from where we're at today.
Our entire team are all working relentlessly to make this happen, with the ultimate goal of getting a return for ourselves and for our investors. That has to be our ambition because everything else that leads us there is positive for the platform and for the community.
We want to greatly improve the feature set of the platform to make job hunting easier, as it's really no fun at all. We want to make it easier for hiring companies to keep candidates informed during hiring processes, and we want to make the hiring process much more human.
We ultimately want to build the first true professional network for esports because we understand the value of community and the power of community. LinkedIn is never going to cut it for esports. But Hitmarker could.
You can view Hitmarker's latest crowdfunding page here, visit the Hitmarker website here and follow Hitmarker on Twitter here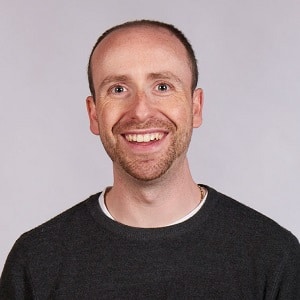 Dom is an award-winning writer who graduated from Bournemouth University with a 2:1 degree in Multi-Media Journalism in 2007.
As a long-time gamer having first picked up the NES controller in the late '80s, he has written for a range of publications including GamesTM, Nintendo Official Magazine, industry publication MCV as well as Riot Games and others. He worked as head of content for the British Esports Association up until February 2021, when he stepped back to work full-time on Esports News UK and as an esports consultant helping brands and businesses better understand the industry.