Last year the UKLC was a largely forgettable affair for Barrage Esports, at least results wise. So for 2020 they've opted to wipe the slate clean and assemble their desired pieces from the ground up.
The final result? An interesting mix of talent from Europe, Australia and America. Megalodontus asks team manager/LoL director Richard 'Froomie' Froom (left) and head coach Ian 'Surza' Lux (right) about their off-season and the thinking behind their current roster for the 2020 UKLC Spring Split.
So prepare yourself a cuppa and some snacks, then sit back and set sail. This will be a long cruise.
What was the thought process and philosophy for this iteration of Barrage? Did both of you work closely in building this final roster?
Froomie: Initially, it was myself and Alex 'AJ' Davies working on the recruitment process. We identified that one of last split's major failings was personality clashes between the players and a struggle for them to be on the same page.
Our first priority was to recruit a head coach and we agreed that Surza was the standout candidate. It was then split between the three of us to determine who was the right fit for the roster. I would identify players to look at, Alex would then evaluate their personalities and learning styles, whilst Surza would focus on the players' ability to play their respective roles.
Surza: Coming from NA, I did not have the same kind of built up knowledge of the scene or its players. I acted as the fresh faced and unbiased observer, judging the players for their performance in our trials instead of their previous performances, and I scouted and watched vods from previous seasons to catch up.
I wanted to take the lessons I learned from the success I had building previous rosters, specifically in the NA amateur scene, to really bring something special to EU. It was really important we were getting the right mix of personalities, motivations and most importantly a team that would have fun together.
There were specific aspects from each role that I was looking for in their play and their communication. In the end, I feel we created a monster of a roster with every player approaching the game in the same way and sharing the same goals.
Surza, first and foremost the most important question: How do you find British weather? And since you're from NA, tell us about the NA Amateur Circuit.
Surza: I'm actually still living in the US, in Kentucky, so the weather here is nice, but there's not enough cold and snow!
The NA amateur circuit in its current form is a mess. The advent of franchising created a massive wall between academy and amateur, with no clear ways for players to work towards joining an academy team.
There is a lack of a reason for organisations to exist in the amateur scene since there is no established league like the ERLs or decent prize pool tournaments. Discounting the Tyler1 Championship Series which isn't an amateur event, this prize pool for the UKLC is more in a single season than what's available in an entire year of NA amateur tournaments. This issue is further compounded by a lack of viewership and awareness from LCS orgs.
This has left many talented players, such as Cuong 'Flaresz' Ta, stuck in an environment where they have no opportunity to be noticed regardless of how well they play. It's not that NA lacks talent, but that LCS orgs overlook the [amateur] talent that exists.
Tell us about Flaresz, a name long-time LoL watchers will be familiar with. Why bring him to Barrage from the NA circuit?
Surza: Initially, I had not considered Flaresz as an option due to there not being housing available. I also wanted to focus on building the roster with the available EU options. However, the offseason had different plans, so after many roster iterations we managed to secure our UK core of Lachlan 'Sybol' Civil, Aleksi 'Kehvo' Merta and Mantas 'Hadow' Sukevičius.
With our top lane options dwindling, Barrage owner Jeff – I think jokingly – asked me if there were any good NA top laners, to which I suggested a couple. I was still a bit hesitant to import an NA player, but after spending days scouting the other top talents available, Flaresz was the standout option.

I worked with Flaresz for over a year in the NA amateur scene, during which he really developed as a flexible and solid core for a team. For a long time he was known as someone who could only play carries, but after working with him, he also plays tanks and the weak-side incredibly well. This allowed him to fill whatever role the team needed and he would carry games regardless of the champion, leading him to receive the most MVPs in playoff games. He also brings a solid voice to the team and an aspect of leadership I found lacking in the other options available to us. I think he is going to be a player that really surprises people once they get to see him play.
Froomie, I'm told by Jeff you did an outstanding job in the acquisition of OPL jungler Sybol and Norwegian midlander Erixen. Tell us about Sybol and why Barrage took him on.
Froomie: I became aware of Sybol's dual nationality early on in the off season, and had a brief discussion with him about why he was looking to play in EU rather than OCE. He informed me that he was looking for a new challenge, and naturally felt that as he would have UK residency, that the the UKLC would be a natural starting point.
We took some time to scout Sybol, we liked what we saw and decided to take a gamble on him, which I'm happy with so far due to how he's performing in pre-season.
Secondly, could you tell us about the loan deal with Erixen from Nordavind, and what can we expect from this young talent?
Froomie: Erixen was the final player we signed for our roster. We felt we needed a carry-style mid-laner to round off the team. I'd scouted Erixen in the offseason, but he'd re-signed with Nordavind expecting to be their starting mid-laner.
However, after Godsent pulled out of the Nordic Championsip, their roster was acquired by Nordavind which meant Erixen found himself in an awkward position. I enquired with Nordavind's League of Legends manager, Ole-Andreas 'Kami' Skår. After Kami discussed the possibility of a loan, I spoke to Erixen about our roster and the ambitions we had. He was excited and chose to join.
We were able to work out a deal with Nordavind which everyone was happy with. Erixen will continue to play in the Norwegian league with Nordavind one day a week, but will spend the rest of the week with us.

I genuinely believe Erixen can compete on a similar level to Felix 'MagiFelix' Boström and Joran 'Special' Scheffer from what I've seen so far. He's an explosive mid-laner who thinks very intelligently about the game. I can see him playing at a much higher level in the next couple of years. Most of the team is already singing his praises, though he continues to be focused on improving as much as possible this split.
Tell us a little about your choice for the botlane duo of Kehvo/Hadow and what made you guys decide they are the duo for Barrage's roster?
Froomie: I wasn't expecting Kehvo to show-up as much as he did. He really won us over in his trials and made us realise that he wasn't enabled properly during his time with Enclave. I think this split the UKLC will be able to see just how good a player he is!
And Hadow is a veteran support I've worked with twice before. His level of experience is invaluable. He knows what it takes to win games and his leadership is important to the team. His passion and drive is commendable and he's a real pleasure to have around, whilst being one of the strongest players in his role in the UKLC and Europe.
Surza: I learned more about Kehvo during the trialling process, like his time on Enclave, and felt he was a player we could really get the most out of by pairing him with Hadow. He gives us a lot of flexibility with his pool and will be a hard player for people to get a read on.
Hadow was always a player on the forefront of our list. He was one of the only players I knew a good deal about coming to the UK because he played with Andrew 'Andybendy' Foreman on Enclave, a player I worked with on OpTic and in the NA amateur scene. From the trials, it was clear that if we wanted the best UK support we could get, he would be our man.
How has practice been together as a team so far?
Froomie: Very refreshing. I know the cliche is "scrims are going well, can't wait for the UKLC", but we've been hugely impressed so far. It's early days, but things are looking promising (touch wood). I've not seen a team develop such natural synergy in such a short space of time in over 4 years of League management. I think it's a combination of the guys being on the same page in how they want to play, and being naturally skilled players.

The minimum we expect is to make the playoffs, with the ambition to make EU Masters and put in a good performance. It goes without saying that this will be the strongest Barrage roster in their League of Legends history, and it is well within the lads' ability to achieve great things.
Barrage are one of the few teams in the ERL scene with a dedicated sports psychologist in Alex Davies. How involved has he been in both recruitment and team practice?
Froomie: Alex is one of the hardest working people I have ever had the pleasure of meeting. He was innovative in his approach to determine which players had the correct attitudes towards playing the game, and working on themselves outside of the game.
Alex's specialties are tailored towards putting the players in the best mindset possible, so that they can achieve an optimal standard of play. He's already helped the team with perfecting their communication structure and plans to work on helping them maintain their focus.

Being the only team outside of the academy teams to have a sports psychologist gives us a distinct advantage, especially with one as good as Alex.
Surza: I've only known Alex for a short time but his work with the team has been invaluable. We both have a similar outlook on how to best coach and help the players improve not just as a player, but as a person.
He can focus on their mental health and personal wellness to make sure they are physically and mentally in shape to practice and be receptive to their growth. This lets me focus on building team synergy and knowledge.
We bounce ideas off each other a lot about how we can best set goals for the players and give effective feedback on how they are reaching those goals. I'm really happy to have him as part of the team, and I know he has already had a huge impact on the players and staff.
In the first week of the UKLC, Barrage faces Phelan Gaming and Nvision Esports. What are your thoughts on your opponents and how will the matches go?
Surza: I think all the rosters need to be given their fair amount of respect if you want to beat them. Phelan has a roster that is a gamble, it has a lot of potential with its rookies but that potential may take some time to be realised. Bearing this in mind, I believe that we will beat them.

NVision has a very strong roster, and is one of the other teams I expect in playoffs. However, I have scouted their players the most. Given our trials in the off season, I have a very solid idea of how I believe their team will play the game and where their weaknesses will be. More importantly, they are being coached by Doruk 'Doruk' Hacioglu, another NA coach that I worked with before and am very familiar with. I spent the last year beating his team time and time again in NA, so I plan to keep this tradition going in EU.
Froomie: Firstly, I believe this will be one of the strongest UK splits we've seen in a long time. There are no easy games, and the majority of the teams will be able to take games off anybody.
I feel Phelan are a roster with potential, but they're exactly the type of team we need to be beating if we expect to achieve our goals. NVision are a very strong team on paper, and I expect them to be a tough test – beating them would send a statement to the rest of the UKLC that we are here to be taken seriously.
The Barrage lads are raring to go, and are looking forward to the opening week. Finishing Week 1 with a 2-0 record is a definite possibility as long as we play to our strengths.
Do you have any particular or odd goals for the UKLC 2020 Spring Split, like insisting Barrage must beat a rival team?
Froomie: The same goal will be set each week: avoid defeat and move up the table. Work hard and reap the rewards. Every player and every staff member has a point to prove, and we'll give everything to prove them.
Surza: An ethos I try to instil in my players is that there is only one person that is their competition and who they must beat, and that is themselves.
We are focused on beating who we were the day before, regardless of who we play against, so we continue to improve and not get stagnant, even if we keep winning. That being said, my personal rival team is NVision for the reasons I stated before.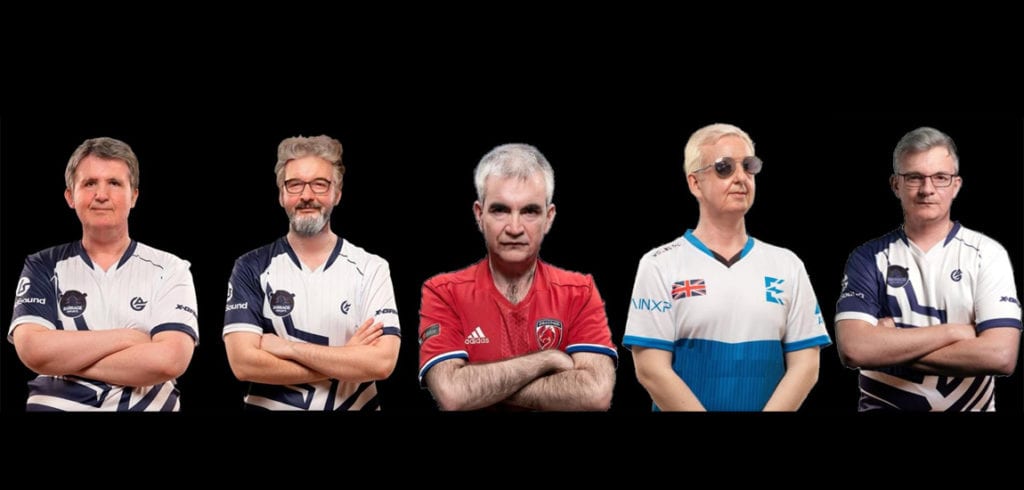 Before we end, I'd like to ask Froomie about Barrage's Retirement Home team. What are your thoughts on qualifying into the UKLC through them and would you consider making a B-team again in the future?
Froomie: I built the roster as a failsafe for Barrage, giving us another opportunity to retain our spot. It was met with mixed opinions, but it was something we discussed and felt we needed to do for the organisation's safety. I feel that the team going all the way justified the decision. Barrage keeping their spot was the most important thing.
I was very proud of the Barrage Retirement Home roster and what they were able to achieve. It restored the players' faith in being able to perform at the top level, whilst restoring my faith in being able to put a team together that can compete. I am forever in debt to those 6 players.

Would I do it again? If the rules allowed it, definitely. I love the opportunity to develop talent in the UK Scene, as I firmly believe it's the best way to make the UK scene stronger. This is why I help with the UK Proving Grounds. Any opportunity to help the scene out at the same time, I will take.
Finally, do both of you have anything you would like to add?
Froomie: I hope this off season has made people excited about Barrage. We'd love to have your support this split and we'll do our best to reward you for it!
Surza: I think anyone who is sleeping on this team is about to get a big wake up call. This team, both players and staff, has been the most passionate and hungry group of people I've worked with and the results will certainly show that. Going back to what I said to Froomie after the first scrim – we've created a monster.
Barrage Esports hoist their anchors and prime their cannons against Phelan Gaming on February 4th at 8pm. Catch them at twitch.tv/dreamhacklol
Megalodontus is a miraculous survivor from the mass extinction and somehow learnt how to use his stubby fins to operate complicated mechanical equipment and drink tea. Worryingly for cryptozoologists, he's been writing League of Legends articles too.
A self-taught writer who's had the privilege to work with good editors who aren't terrified of his pearly whites, Megalodontus is often seen writing either independently or for various websites such as this one. When not writing, he usually runs it down mid in real life and is fascinated with watching paint dry.