KOG, a developer and publisher o free-to-play action MMORPGs, has teamed up with tournament organiser ESL to broadcast the KurtzPel Challenger Tournament Series
It's the free-to-play PC game's first worldwide tournament. European and North American competitions begin on October 13th, with EU cups starting at 3pm CEST and NA cups at 2pm PDT.
Every cup and final will be broadcast from ESL's studio in Leicester, UK. The broadcast will be the first time that viewers and fans can tune in to see the best KurtzPel players from around the world and will feature casters and analysis to guide spectators through the anime-inspired action.
"We are honored to be partnering with ESL, the largest and longest running esports establishment in gaming," shared Rafael Noh, KOG Business Director. "KurtzPel has always been about delivering a fun and competitive PVP experience. Giving players an opportunity to partake in and view a high-quality, worldwide PVP competition has always been one of our goals and partnering with ESL is making this goal a reality."
"ESL are thrilled to have KurtzPel tournaments running here in the UK and getting to work so closely with the community," said James Dean, ESL UK CEO. "It's exciting to be involved with KOG as they take their first step into esports with us"
KurtzPel is a third-person action battle game created by the developers of Grand Chase and Elsword Online. Players can outfit their characters with two separate jobs (called Karma) that can be swapped out and utilized mid-combat.
Players can take part in 2v2 PvP modes or player-created 1v1, 2v2 or 3v3 Cctom missions, as well as raid-style quest battles against NPCs.
Matches can be viewed via https://www.twitch.tv/kurtzpeltv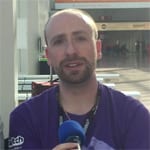 Dom is an award-winning writer who graduated from Bournemouth University with a 2:1 degree in Multi-Media Journalism in 2007.
A keen League of Legends and World of Warcraft player, he has written for a range of publications including GamesTM, Nintendo Official Magazine, industry publication MCV as well as Riot Games and others. He works as full-time content director for the British Esports Association and runs ENUK in his spare time.