Oh my days, fam! Popular football fan personality Troopz is adding his voice to FIFA 20, the next game in the FIFA series which is out next month, blud.
Troopz has made a name for himself on YouTube fan channel AFTV (formerly known as Arsenal Fan TV) over the past few years, for his mix of passionate and lighthearted comments, not to mention his dialect and use of the words like 'blud', 'fam' and his owned coined phrases to describe Arsenal players, like 'AubamaBloodclatYang' and 'LacaBloodclatZette'.
Troopz – who has more than 100,000 subscribers on his YouTube channel and is back again taking part in AFTV content like the Biased Premier League Show each week – will be a guest announcer in the Volta London feature in FIFA 20, ya understand?

"Back in March of this year, EA 

got in contact with me and asked if I'd be interested in featuring on FIFA 20. I thought it was a prank, I didn't reply to the email for about a month!"
Troopz

Volta is FIFA 20's street football mode, where you pick and customise your own player before taking part in five-a-side matches in indoor and outdoor arenas around the world, ya get me.
In a trailer for Volta Football, Troopz can be heard in the background reacting to goals, saying lines like "oh my days, fam!"
The World is your stadium in #VOLTAFOOTBALL #FIFA20 pic.twitter.com/ay4eho6o3n

— EA SPORTS FIFA (@EASPORTSFIFA) August 11, 2019
Troopz said on Twitter:
So we got to work!! And now I can proudly announce I will be the announcer for the Volta London feature on FIFA 20!! Fam, it's all MAD!! From playing Fifa to being in the game, from the blocks to the brands. Thank you everyone, I just wish Nan was here but I know she's proud ❤️

— The Peoples Champion (@TroopzAFC) August 15, 2019
He added in the below reveal video: "I'm gonna be in FIFA 20, blud, ya understand? I've had to keep it quiet for a while, fam, ya get me? It's been since March blud, ya understand?
"The response has been amazing. To be in one of the biggest computer games in the world, and they made me an announcer… Man has to big up EA Sports and (AFTV founder) Robbie as well. Big up my fanbase and all the people who believed in me."

As well as being a big Arsenal fan, it seems Troopz is also a bit of a gamer, having recently made comments that new Arsenal signing Nicolas Pepe 'was taking souls like Shang Tsung from Mortal Kombat' on the weekend.
It's not confirmed whether or not there will be any virtual ham rolls added to Volta Football, but we can't see why EA would want to disrespect anyone like that, are you mad?
Could we see Troopz commentate FIFA esports matches and tournaments in the future? Let's hope so, fam.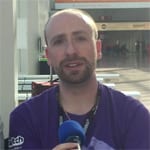 Dom is an award-winning writer who graduated from Bournemouth University with a 2:1 degree in Multi-Media Journalism in 2007.
A keen League of Legends and World of Warcraft player, he has written for a range of publications including GamesTM, Nintendo Official Magazine, industry publication MCV as well as Riot Games and others. He works as full-time content director for the British Esports Association and runs ENUK in his spare time.