A mobile version of League of Legends is in the works, according to 'sources with knowledge of the matter'.
Reuters is the news provider that broke the story, which states that Riot Games is working with its owner Tencent Holdings on building the game.
The report claims that relations between Riot and Tencent have been 'strained' around the idea of a mobile version of League, with Riot apparently rejecting an initial proposal by Tencent years ago.
Tencent of course has its own mobile MOBA titles Honour of Kings (focused on the Asian mobile market) and Arena of Valor (targeting the West), but obviously neither have the same stature and branding that League of Legends has globally.
The report suggests a mobile version of League of Legends is 'unlikely' to arrive in 2019.
A few years ago, rumours circulated suggesting Riot has several games in development.
Tencent hinted that Riot's next game would be a mobile game, but nothing concrete was announced. There are currently several League-of-Legends-like MOBA titles on mobile.
Esports News UK reached out to the community for their views on the rumour.
Curio, in the Esports News UK Discord, said: "Although mobile games aren't my cup of tea, it'll be popular due to the success of both Riot's League of Legends and Tencent's primarily Chinese-focused market, coupled with the success of similar concepts of mobile MOBA's such as Mobile Legends: Bang Bang."
My phone has rubbish storage so I certainly won't be able to install it until I upgrade.
I think even if I could I'd rather just wait and play the real thing on PC than play a version on mobile.
Then again I've never been a mobile gamer so maybe its not aimed at me.

— Tom (@Codexcaster) May 22, 2019
On the League of Legends subreddit, LordLex44 said: "I think it is fine for attracting new players, as long as they keep esports desktop only, so that they do not compete."
Carolynnn added: "LoL mobile will most likely not be cross-platform, which opens up the possibility for mobile competition – PUBG Mobile has an active esports scene, for instance.
"There are some competitive Fortnite mobile players who play against PC/console pros, but it's pretty well-accepted that they won't be able to play at the same level as the Tfues of the world."
What do you think? Would you play a League of Legends mobile game?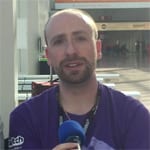 Dom is an award-winning writer who graduated from Bournemouth University with a 2:1 degree in Multi-Media Journalism in 2007.
A keen League of Legends and World of Warcraft player, he has written for a range of publications including GamesTM, Nintendo Official Magazine, industry publication MCV as well as Riot Games and others. He works as full-time content director for the British Esports Association and runs ENUK in his spare time.