Last week Riot Games announced it will be making changes to ranked League of Legends, notably new tiers and fewer divisions within each.
For example, an Iron tier has been added below Bronze (the current lowest), while Grandmaster has been introduced above Master and below Challenger (the current highest). Also, there will now be fewer divisions within each tier – four down from the existing five.
Dom Sacco asks: why have these changes been made and what does the UK community think about this?
Firstly, high elo players reacted with a mix of opinion, some criticising the lower tier changes in particular: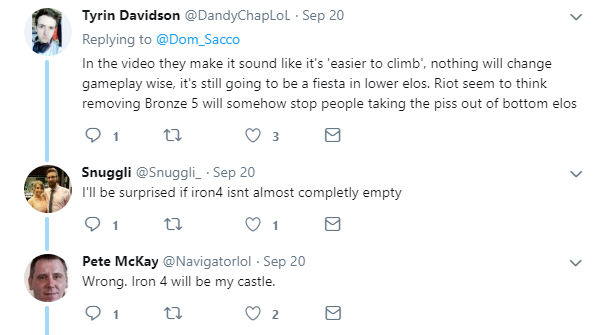 Former Riot UK community manager Pete "Navigator" McKay and others reacted with good humour to the changes, and it seems the community responded generally favourably:
Bronze Apes Represent! ?

— Josh (@PavvvYT) September 22, 2018
UK scene manager Officer Naughty was particularly pleased with the division changes:


Some in the scene believe the changes won't make a difference as such, other than creating a new presentation, and may help encourage players to keep climbing the elo ladder:


Others reacted positively and had more suggestions:
Honestly it's a long time needed to rebalance the tiers in League. Though there are still a crap ton of issues with the mode overall that still need to be addressed.

— Cryss Roxas Leonhart (@CryssLeonhart) September 20, 2018
I think everything they have said is correct in regards to bronze and diamond being way too different and random with what ELO you are playing with.

I personally wish they got rid of the Best of 3 / 5 promotion system and revert to the old ELO Number as bo3/5 can tilt people.
— Bizzleberry (@BizzleberryLoL) September 20, 2018
I think it'll be a bit more rewarding for casual players. Having 4 tiers instead of 5 means you can jump divisions faster, so even though there are more divisions to climb, it could feel more rewarding to see more frequent, smaller gains

— NineTeeSix (@NineTeeSix) September 20, 2018
One good point was made about the names of the tiers in particular, with this Reddit user hoping to see the highest rank called 'Legend'.
BIG's former LoL manager Crane shared this viewpoint:
Wish they'd go Master –> Challenger –> Legend.

Would make sense, given the name of the game..
— Crane (@CraneLoL) September 19, 2018
Riot Games senior designer Ed "SapMagic" Altorfer responded to this suggestion on Reddit, saying "it's likely" Riot will stick with the current Challenger name.
"But the feedback resonates with a lot of people in the office, so we want to revisit it," he said. "The chances are pretty low [of us changing it], but your feedback is super valid."
The UK League of Legends Facebook group, meanwhile, resorted to comparing the differences between iron and bronze as metals.

What Riot says – 'there's too big of a skill gap right now'
Primus "Riot Gortok", game designer, said on the current system: "We've heard for years that a lot of you feel like you're getting better, but still not seeing your rank go up.
"Take a player in Bronze, right now. They might get a little bit better, but not climb divisions. Up in Diamond and beyond, your games can feel totally different at the top and the bottom of the tier. There's just too big of a skill gap in these places.
"On the other hand, in Gold, even a slight change in your skill can bounce you up or down a couple of divisions really rapidly. It's like a ladder where some of the rungs are much farther apart than the others, and that's a pretty hard ladder to climb. We want to find a happy medium where your improvements are accurately reflected."
As well as tiers and divisions, Riot said it was also making changes to how provisional placements work at the start of a season, in a bid to make wins more meaningful. You now gain LP for each win in a placement, and lose none when losing. The overall LP after the initial ten games will aim to better place you into the correct starting elo.
Riot also said the ranked visuals will also be based on the lore/factions of Runeterra moving forward. And, there will be bronze borders added for the first time for players in that elo.
You can hear more from Riot in this announcement video:


'Moving to four divisions per tier is a welcome change'
Esports News UK editor Dom Sacco shares his view on the additions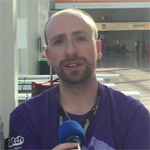 League of Legends ranked play has also been, for me, rewarding and frustrating in equal measure.
One of the reasons why I cut back on ranked LoL play was because of the random nature of the game. One match you might get gods in each lane, another complete baboons. One match you might have a smurf that carries your team, another there's a smurf on the enemy team.
UK League of Legends veteran Tundra once told me in a coaching session that as long as you win 51% of your games, you'll climb elo and improve your ranking. And he's of course right. But with the way the system works, gaining LP or losing it after each match, you need to put in a lot of time to climb effectively. And that's something I lack.
So for me, these are some welcome changes. Having four divisions in each tier means it will take less time to climb – that's a great change.
I'm less bothered about the Iron and Grandmaster additions, as they won't really affect me, but if it helps make the Diamond police better balanced and Bronze players feel better about themselves, then I'm all for that.
Now, is it enough to pull me back into ranked? Time will tell! I might have to get Vi and Eve out of the locker and try jungling again sometime…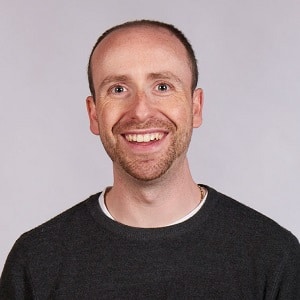 Dom is an award-winning writer who graduated from Bournemouth University with a 2:1 degree in Multi-Media Journalism in 2007.
As a long-time gamer having first picked up the NES controller in the late '80s, he has written for a range of publications including GamesTM, Nintendo Official Magazine, industry publication MCV as well as Riot Games and others. He worked as head of content for the British Esports Association up until February 2021, when he stepped back to work full-time on Esports News UK and as an esports consultant helping brands and businesses better understand the industry.