ESL UK has announced the Tekken 7 Summer Skirmish community event, as part of a bid to recognise more homegrown esports talent outside of its Premierships.
The tournament will be run as an invitational for 8 of the bigger names in the Tekken 7 community for the UK and Ireland.
It will be a single elimination over a single evening with a best-of-five format, emulating what a Tekken Premiership could be in the future. It will adopt standard tournament rules such as character lock and random stage.
It kicks off next week on Tuesday August 21st from 7pm on Ketchup and Mustard's Twitch channel. The brothers Ketchup (Ryan Neal) and Mustard (Jake Neal) will also be providing the commentary. They have almost 25,000 followers on Twitch and 45,000 on YouTube.
Participating players will be announced throughout the week. The first to be confirmed are Kaneandtrench and Fumaken.
We are happy to announce the @TEKKEN 7 Summer Skirmish!

The #T7Skirmish will pit 8 of the best players in the UK and Ireland against each other. Round 1 will be a battle between UK Champion @Kaneandtrench & @Bob_Ganryu!
Join us on August 21st 7PM BST on https://t.co/UulW1BMEjn pic.twitter.com/b63pOVCeEN
— ESL UK (@ESLUK) August 14, 2018
It's fair to say Ketchup and Mustard have been working hard on growing the fighting game community (FGC) within the Midlands, and the UK has some solid FGC talent, from ProblemX to KingJae, Packz, Ryan Hart and many others, so it's great to see this new community event emerge.
The Summer Skirmish has a £300 prize pool, with first place receiving £175, second taking home £75 and third-place receiving £50, with a potential promise of future events.
ESL UK says it's also keen to celebrate and foster talent in Ireland as well as the UK. The scene in Ireland is growing and more talent is being showcased, through the efforts of firms like Dublin Games, whom ESL works closely with (though Dublin Games aren't involved in this specific event).

'The UK Tekken scene has a lot to offer' – interview with Jake "Mustard" Neal
Why did you decide to get involved with the Summer Skirmish? What's the importance of initiatives like this?
Ketchup (Ryan) and myself have been involved with the Fighting Game Community since 2011, and have seen the UK grow from strength to strength in this genre of games.
Moving forward to the present in 2018, we have a number of players who are hungry to compete but may not be able to attend events in person. Events like this help show the potential of online competition and how it can be used for players to improve their gameplay, in a way that is possible for them and give them a competitive environment to play and improve in.
It also gives existing top players the chance to compete more regularly overall, especially when prize money is up for grabs.

What are your thoughts on the competitive Tekken 7 scene and UK talent within that?
The Tekken scene globally has been constantly increasing in size and commitment for many years, but the launch of Tekken 7 really pushed the scene to new heights. With global support in the Tekken World Tour, the community has never been stronger, and the UK is no exception.
We have seen the UK scene transform over this past year, with players qualifying for the biggest stages out there in the TWT finals, as well as holding their own against the world's best in European tournaments.
The UK Tekken scene has a lot to offer and we look forward to seeing more of it.


"We have seen the UK scene transform over this past year, with players qualifying for the biggest stages out there in the TWT finals, as well as holding their own against the world's best in European tournaments."
What can the community expect from the stream, why should they tune in?
The Summer Skirmish will feature 8 of the very best in UK/IRE Tekken, which will no doubt be an impressive showcase of what Tekken 7 looks like at the highest level, especially when there is money on the line.
The line-up of players is exactly what we wanted for a full display of what the country can do in competitive Tekken 7, and the players involved will be announced a pair at a time over this week!

Would you like to see a fighting game in the ESL Prem in the future, why/why not?
We would absolutely love to see a fighting game make it into the ESL Premiership, not only is the online experience in fighting game's getting better and better as the years go on, they are incredibly easy to watch and to understand.
We could see fighting games at the highest level on a weekly basis, and with regular competition comes growth and strengthening of the scene as whole. It would also do a fantastic job of showing the UK esports fanbase what other genres of games have to offer in the esports world.

Is there anything else you'd like to add?
Nothing else to add other than I hope you all enjoy the show! Ketchup and I have been with ESL UK for a number of years now and we always relish the opportunity to get something off the ground with fighting games.
The team is excited to bring this to fruition and we have no doubt that the matches we'll see are going to be exciting, and of course any updates to the Tekken 7 Summer Skirmish will be posted to the ESL UK Twitter and Facebook. See you all there!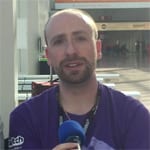 Dom is an award-winning writer who graduated from Bournemouth University with a 2:1 degree in Multi-Media Journalism in 2007.
A keen League of Legends and World of Warcraft player, he has written for a range of publications including GamesTM, Nintendo Official Magazine, industry publication MCV as well as Riot Games and others. He works as full-time content director for the British Esports Association and runs ENUK in his spare time.