13 is a considered lucky for some, and a bit of luck finally arrived for H2K in the EU LCS on the weekend after their 13th loss in a row.
British League of Legends player Marc "Caedrel" Lamont (left) and UK scene veteran Emil "Larssen" Larsson (right) from Sweden, helped H2K end their losing streak – the second-longest in the history of the EU LCS after Origen's 14-game run last year.
The team beat Splyce on Saturday August 4th with a 13k gold lead and 14 kills to Splyce's 10.
Despite being down 3-0 to Splyce after ten minutes, H2K showed some composure and teamwork to come back into the game.
While the kill scores were almost level at the 35-minute mark with Splyce leading 10-9, H2K had a 10k gold lead.
Mid-laner Larssen had a 6/2/2 score and 400+CS by the end of the match, more than 100CS more than Splyce's mid-laner Nisqy.
It was Larssen's first LCS win, who subbed in from Ninjas in Pyjamas. He has a host of UK LoL scene experience, having played with the likes of ManaLight, Diabolus, Wind and Rain and MnM Gaming, whom he's won the ESL Prem with.
Back home from Berlin, really happy with how this LCS weekend turned out and i wish the @H2KGG guys a big goodluck for the remainder of the season. Now it's time to focus and put hard work on winning Nordic and then EU Masters, exciting times ahead. pic.twitter.com/SVqocnLVkK

— lars (@Larssen00) August 6, 2018
Larssen said in a post-match interview: "Obviously I'm really happy for the guys that they finally got the win, and it's my first LCS weekend, so it was really fun to get a win here, and not just lose every game."
He said he was happy with his performance overall but said there was room for improvement.
Jungler Caedrel, meanwhile, has less UK scene experience than Larssen but has played for a variety of competitive teams including Schalke, Giants and Renegades Banditos.
H2K previously lost to G2 on August 3rd, though it wasn't a complete stomp, with Larssen going 3/1/4, though Caedrel found it hard, going 2/5/6. He said it was great to finally break the losing streak.
Feels so great to win, happy for the team and especially for Larssen on his debut. Hopefully we can get a few more wins in the upcoming weeks and end the season on a good note. GG @Splyce pic.twitter.com/W6e1LJrBQh

— Marc Lamont (@Caedrel) August 4, 2018
H2K had drawn a lot of criticism from the community over the past few weeks, with British esports analyst and critic Duncan "Thorin" Shields going in hard onH2K, saying their press release response was "an absolute joke".
H2K's British coach Michael "Veteran" Archer was also relieved following the match.
Glad to finally get a win. Even happier for these two guys @Larssen00 @Caedrel showing that the talent pool in EU is far from dry.

Hope this is the start of what can be a strong showing to end an otherwise disappointing split. pic.twitter.com/6H6PRq6aPT
— H2K Veteran (@VeteranEU) August 4, 2018
There were of course two British players in this match, both Caedrel and Splyce's experienced support player Raymond "kaSing" Tsang.
KaSing has played for H2K in the past, and was with them back when the team qualified for Worlds in 2015. KaSing joined Splyce in December 2017.
It's great to see more British/UK scene talent emerging into the LCS, joining the likes of KaSing, Alphari and Maxlore.
You can watch the match between H2K and Splyce here.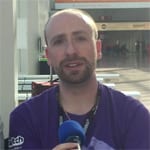 Dom is an award-winning writer who graduated from Bournemouth University with a 2:1 degree in Multi-Media Journalism in 2007.
A keen League of Legends and World of Warcraft player, he has written for a range of publications including GamesTM, Nintendo Official Magazine, industry publication MCV as well as Riot Games and others. He works as full-time content director for the British Esports Association and runs ENUK in his spare time.