April 1st is a great day to be a so-called journalist, social media manager or other content guy or gal. You can be silly and get away with it.
Here's our pick of esports April Fools Day jokes and tricks for 2017.

Guys, you're supposed to do something that catches people out, not makes them want a strangely cool new geeky product at the same time!


The League of Legends subreddit went a little crazy on April 1st this year, turning the forum into a shrine to Riot Games co-founder Marc Merrill (aka Tryndamere) for the day.
"Marc Merrill is the reason we are all here today, Marc Merrill is the reason we are all united on this front," a statement read.
"We owe Marc not only our lives, but also our hearts. In the entirety of mankinds history, never has there been a man so dedicated, so likeable and so god damn handsome to grace the very land we walk upon."
Marc later tweeted saying Graves is getting his cigar back.
Your wish is our command. Graves shall once again be the badass puffing on a cigar who doesn't give a F. https://t.co/PnKzdac3cq pic.twitter.com/t4ashVNDoY

— Tryndamere (@MarcMerrill) April 1, 2017
Gross Gore crashes his Toyota Supra

He technically did crash it.


The Welsh gaming community site published a post stating they are moving to New South Wales in Sydney.
"All of you are welcome to stay members, but out of respect of our new location could you please speak in a Australia accent," the Welsh Gaming Network said.
"Official Streamers are welcome to reapply for their positions if they decide to move with me to Australia."


NA LCS team Immortals put out this weird post saying they're working on unlocking the secret to immortality.
Joshua "Dardoch" Harnett apparently said: "With thousands of years added to my new, extended lifespan, I'm confident that I can remain North America's best Lee Sin."


We love how our friends over at UKCSGO described this one.
"09:59 – Groups hastily seeded and created by tournament admins last minute.
10:00 – Groups officially start."
Hang on, isn't that what usually happens in an UK esports tournament?
A Valve spokesperson added: "We can't wait to see the mix team that wins this and then splits just before the Main Qualifier."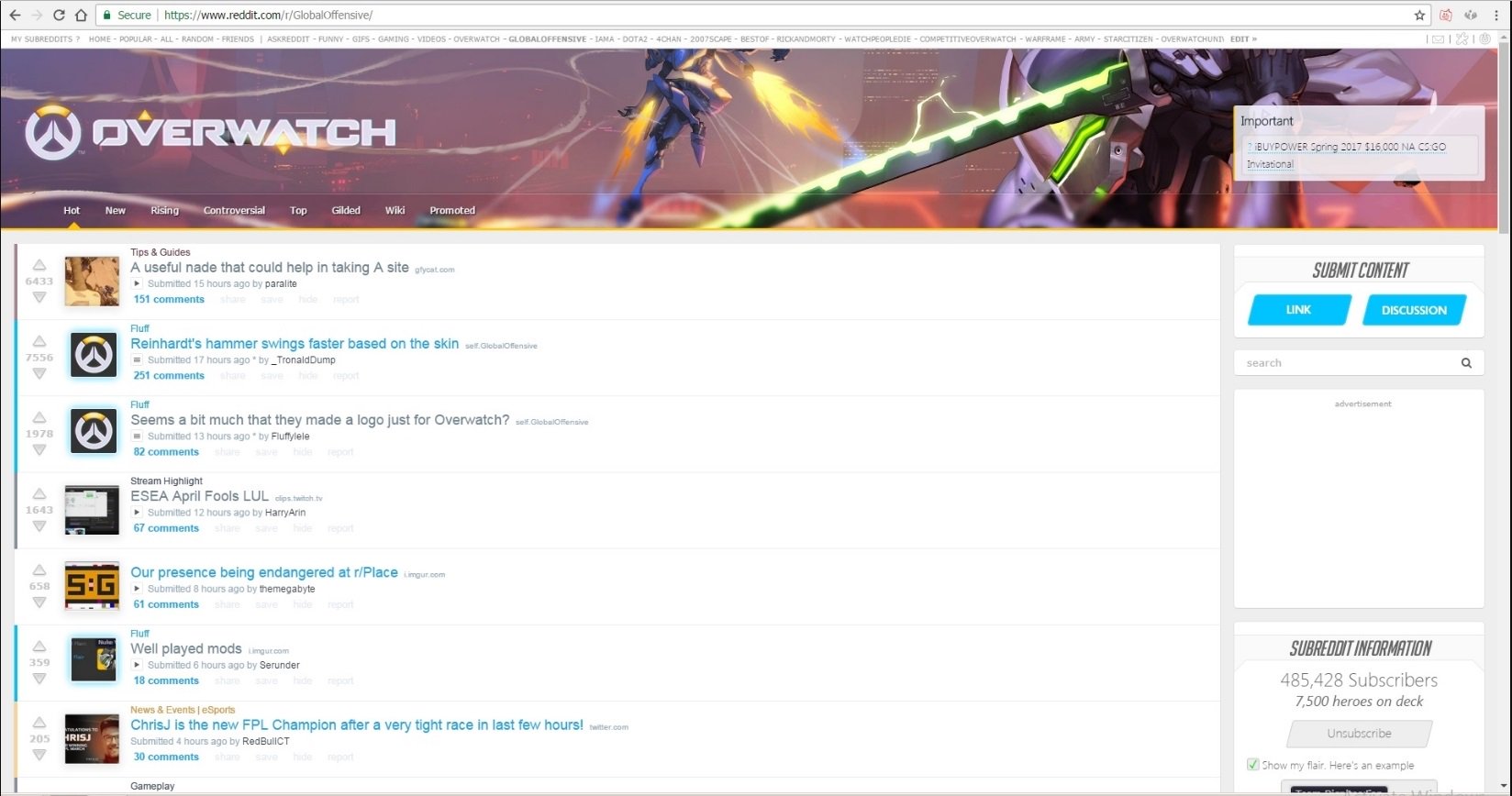 Image source
The CSGO subreddit re-skinned their background and icons to that of the Overwatch subreddit, making users think they had been redirected to the Overwatch page by accident.
TheBossBagel commented: "Just spent 15 minutes wondering why the hell I kept being redirected to r/Overwatch… I'm an idiot."

Reinhardt randomness & Overlord Announcer

Blizzard is usually on top form around April Fools Day, with special Easter events and other jokes, but they opted for a lower-key approach this year.
Whoever played as Reinhardt in Overwatch and typed an in-game message on April 1st, the game would add messages from Reinhardt to the chat, like 'PRECISION GERMAN ENGINEERING'.
Blizzard also announced an op Hearthstone card and an Overlord Announcer for StarCraft II:
Overlord Announcer coming to StarCraft II! pic.twitter.com/Uzgpu5ykHB

— StarCraft (@StarCraft) April 1, 2017
Only 35,550 floppy disks required. #DOOM pic.twitter.com/6kZIbg92TL

— DOOM (@DOOM) April 1, 2017
It might not be an esport anymore, but it's a nice reminder of that golden era of PC gaming.


In case you missed it, this is our own April Fools story.
A special shoutout to epic.LAN's Tom Gumbleton. Sorry Tom ?
Wow thats pretty impressive. Good stuff chaps!! https://t.co/JIdruKeg65

— Tom Gumbleton (@PeriGumpster) April 1, 2017
@MystFlux Oh ffs.

— Tom Gumbleton (@PeriGumpster) April 1, 2017
Dom is an award-winning writer who graduated from Bournemouth University with a 2:1 degree in Multi-Media Journalism in 2007.
A keen League of Legends and World of Warcraft player, he has written for a range of publications including GamesTM, Nintendo Official Magazine, industry publication MCV as well as Riot Games and others. He works as full-time content director for the British Esports Association and runs ENUK in his spare time.