UK-based eSports organisation Team Huma have been banned by Riot Games from participating in Riot-sanctioned leagues.
The League of Legends owner says that Huma's management has "repeatedly failed to pay their players on time", violating player contracts, Challenger Series rules and the Team Participation Agreement.
Huma's owner Behdad Jaafarian will also not be allowed to hold a position at any team in a Riot-sanctioned league for one year.
This confirms news first broken by ESPN reporter Jacob Wolf.
Former head coach Kublai "Kubz" Barlas described Huma as a 'train wreck'. He said on Reddit: "Well. I'll never see the 18k he owes me but thank God he's finally gone. Glad to have won EUCS with the roster, pissed off he was associated with it in any way.
"Behdad booked me a one-way flight to Berlin and sent me like 4k CAD, all of which I sent to Kami (analyst) and Dentist (manager). So technically I got 4k out of the 18, but I sent that money to the people who needed it and people who had worked just as hard as me, if not more so. Without them, I would never have gotten a second chance so I owe everything to Karl and Kami."

"Huma does not meet League standards for a professional organization and as such, they will not be permitted to continue participating in Riot-sanctioned leagues."
Riot Games

Huma have been playing generally well in the EU Challenger Series this year, finishing second in the summer split. They also had UK players Impaler and Caedrel playing for them at one point.
However, allegations first arose back in February suggesting Huma were not paying their players on time.
Now Riot has struck with the ban hammer, and has given Huma until October 1st to sell their Challenger Series spot.
The news comes after Huma decided to sell the spot.
Huma has decided to part ways with League of Legends for the time being. This has resulted in our EUCS spot being up for sale.

— HUMA (@TeamHumaGG) August 15, 2016

Riot said in a statement: "Despite multiple clarifications on payment requirements by League Officials including an official warning in March 2016,  Huma remains unable to meet their contractual obligations with both former and current players. We conclude that Huma does not meet League standards for a professional organization and as such, they will not be permitted to continue participating in Riot-sanctioned leagues."
Riot added that Huma are working with potential new owners to pay the players what they are owed.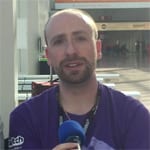 Dom is an award-winning writer who graduated from Bournemouth University with a 2:1 degree in Multi-Media Journalism in 2007.
A keen League of Legends and World of Warcraft player, he has written for a range of publications including GamesTM, Nintendo Official Magazine, industry publication MCV as well as Riot Games and others. He works as full-time content director for the British Esports Association and runs ENUK in his spare time.