Okay we have a bit of a bumper UK League of Legends memes of the month article for you this time around.
There are several reasons for this:
Multiplay Insomnia 57 happened
The ESL UK Premiership group stages concluded
We're adding more weird stuff in, on top of the memes
ManaLight's Rob Allen just won't shut up about it
I need more memes in my life right now

— Rob Allen (@ML_TREBOR) January 27, 2016

Okay here we go.
Disclaimer: Any tilting this article causes is not the responsibility of eSports News UK; any grievances should instead be taken up with Rob Allen immediately.

One bang at LAN?
Players (and managers) were preparing to get physical at i57 this year…
Honestly can't wait to one bang @xL_Reecicle and his shit team @ LAN
— Alex Winton (@SynygyLoL) March 7, 2016
@xL_Barnetto @ML_FrozenDawn cya @ LAN pic.twitter.com/K9CoTZRP7M
— Alex Winton (@SynygyLoL) March 7, 2016
@Exertus_Hoaxer @Dom_Sacco @Joekerism @NutriLoL @ML_TREBOR i actually wonder when some popular esports/gamers will start to need security
— Vince Clarke (@Vincealot) March 7, 2016
A wild horde of Tundras appeared
UK eSports veteran Jamie "Tundra" Duthie made his caster debut at i57 last weekend, and Choke's former jungler made this inspiring piece of art.
Sorry @Tundra_LoL but was worth pic.twitter.com/GZ3IVfFvDV
— Tyrin Davidson (@LoLDandyChap) March 27, 2016

He learnt about hot mics…

.@YungLozza @Milkyardd when u realise the mic was live pic.twitter.com/2Mk87YEuxw
— Ben Forbes (@bedraggles) March 27, 2016
"alphari is playing like shit" pic.twitter.com/Iuleqoi1JE
— Alicus (@AlicusOfficial) March 29, 2016


And Tundra also made the brave move of asking people to Photoshop him.
Best photoshop wins a mystery gift you're free to use any pic of me you have 5 hours, gl.
— JaMiE Duthie (@Tundra_LoL) March 27, 2016

Here were some of the responses:
.@Tundra_LoL pic.twitter.com/KHwpppZ70Q
— Kiandy ✨ (@kiandymundi) March 27, 2016
.@Tundra_LoL idk wtf im doin pic.twitter.com/sE49KGUQTs
— Kiandy ✨ (@kiandymundi) March 27, 2016
@Tundra_LoL mystery gift please pic.twitter.com/ldpCGqFsEU
— #Triddered (@CasterTridd) March 27, 2016

Ped went and ruined it:
@SynygyLoL pic.twitter.com/9YbHx5eeMa
— Peter Goldingay (@pjgoldingay) March 29, 2016

Speaking of whom…

The Peter Goldingay column for casters seemingly whatever the f*ck he wants
As always there was a few from Choke Gaming's support and eSports News UK's resident fanboy, Ped.
First up was TCA in the firing line.
when shes up for it but he cant get it up pic.twitter.com/CEsZcgC4im
— Peter Goldingay (@pjgoldingay) March 20, 2016
@pjgoldingay That's why they call me Raizins xDDDDDDDDDDDDDDDDDDDDDDDDDDDDDDDD
— TCA Raizins (@Raizinslol) March 20, 2016

And this…
pic.twitter.com/NbSXmZHKv3
— Peter Goldingay (@pjgoldingay) March 29, 2016
The actual caster column
The UK's fine crew of casters were on form as usual. Here's our pick of pics and highlights.
When you see Special Ahri ult out of Lamb's Respite to his death. @SonatheDoctor pic.twitter.com/99IXYE0dDH
— Dezachu (@Dezachu) March 26, 2016

Excoundrel plays it smooth…
#player pic.twitter.com/jN6GnQPgxv
— Sona (@SonatheDoctor) March 27, 2016

That really was the tip of the iceberg. Or was it?
@Dezachu @xILubez @SonatheDoctor @excoundrel also @ESL_Munchables will always be there in spirit pic.twitter.com/3Exf7yiuup
— #Triddered (@CasterTridd) March 24, 2016
Monstrosities of the Month
Sasha, James and Cody went to town this month, producing enough frightening images to give us nightmares for the whole of April, including some truly horrid Cody/Dom Sacco hybrids that should never see the light of day.
.@Coodywoo and @Dom_Sacco's love child pic.twitter.com/MZvCXytFhT
— Sasha (@toffee) March 27, 2016
pic.twitter.com/6yi9NKsXo8
— Sasha (@toffee) March 26, 2016
@toffee @JordanWalshm8 @Dom_Sacco pic.twitter.com/JAiruknDAP
— James (@ComplexAss) March 30, 2016
avengers assemble pic.twitter.com/AAfyEvscf8
— Sasha (@toffee) March 30, 2016
ManaLight see the light against Banditos…
@LarssenML @ML_XDSMILEYs6
▄▀█▀█▄██████████▄
▐██le███larssen██god██
███has███arrived████
███████████████ pic.twitter.com/WztE1YdUTS
— Fabbe (@TaoPao_gg) March 30, 2016
.@Renegades Banditos, I fixed your logo for tonight's match vs. @Manalightgg in the @ESLUK Prem pic.twitter.com/siJiosfvwv
— #Triddered (@CasterTridd) March 30, 2016
I swear to god @ManaLightGG, don't make me use this pic.twitter.com/Mghd7ZDDlN
— #Triddered (@CasterTridd) March 30, 2016
@ManaLightGG Instead make me use this one pic.twitter.com/k06xdI9Heg
— #Triddered (@CasterTridd) March 30, 2016
@Renegades @ManaLightGG @ESLUK and just when you thought I was done pic.twitter.com/pPqTBYEzSq
— #Triddered (@CasterTridd) March 30, 2016
.@ManaLightGG @ML_FrozenDawn's interview preparations start with the hair… pic.twitter.com/2g0JStndmC
— eSports News UK (@eSports_News_UK) March 28, 2016
Other LAN shenanigans
ManaLight prepares for the final against the Banditos…
How to coach a jungler @ML_FrozenDawn @ML_Phurion pic.twitter.com/eVvCBE31he
— Rob Allen (@ML_TREBOR) March 26, 2016

…and it helps jungler Phurion steal the baron:
.@ManaLightGG warmups at #Insomnia57 pic.twitter.com/OWNAkcC5gC
— Ben Forbes (@bedraggles) March 27, 2016

Wizzo goes all Easter bunny…
Look who we spotted! A blue bunny? Could that be @MPLAY_Wizzo? 🙂 Happy Easter Gamers! pic.twitter.com/TvJkSpRHEU
— Insomnia Events (@MultiplayEvents) March 27, 2016

Cody gets up to no good…
found a guy streaming behind me and inted his stream when i realised you could see my monitor through his cam pic.twitter.com/jJi5ACpVzG
— egg (@Coodywoo) March 26, 2016

…and attempts to ruin a gamer's stream (see the screen behind the streamer at the bottom-right):

Exertus ADC Augustas "Gakis" Ruplys is also a champion hurdler…
He's ona madness pic.twitter.com/ezjUgTcHBZ
— egg (@Coodywoo) 27 March 2016

Tridd gets excited…
Cant wait for the @MultiplayEvents League of Legends talent this weekend, @excoundrel @SonatheDoctor @Dezachu pic.twitter.com/hiKmmyFZzH
— #Triddered (@CasterTridd) March 24, 2016


Fangirl harasses keyboard rager…
guy behind us is shouting "fuck off" at his soloq game and furiously bashing his keyboard
— Sasha (@toffee) March 26, 2016
the desk of a defeated man pic.twitter.com/xKHYJrCJlQ
— Sasha (@toffee) March 26, 2016
LAUGHING HARD @toffee pic.twitter.com/2HP6xONdtU
— Sasha (@toffee) March 29, 2016
.@PizzaEUW oh yes i did pic.twitter.com/xUh7JXNxIj
— Sasha (@toffee) March 29, 2016

…before making him believe she's a Cody hybrid:
pic.twitter.com/V3p7OUDmdm
— Sasha (@toffee) March 29, 2016
Introducing the ReDeYe Rekt award
Last but not least, we'll be awarding this each month for the best meme or banter we've seen.
To present the award is eSports caster legend Paul "ReDeYe" Chaloner.
This month, it has to go to…
MnM top-laner Gashandslash, for his brutal response to Choke's coach Jordan Walsh.
Jordan said: "MnM's top-laner gashandslash is pretty f*cking boosted. I don't know what you want me to say – the guy's pretty sh*t."
Gashandslash responded with:
@Wizzlol95 I might be boosted but at least I don't look like mr potato head from toy story
— Brandon Marson (@GashandSlash) March 22, 2016

It was so unique we had to write a separate article on it.
Well played! Here's your prize:


Okay that's everything this month. In a few days' time, one UK League of Legends team will be going to the Challenger Series qualifiers.
Ready the memes.

Our meme aggregation articles are just supposed to be a bit of fun, so if anything has upset you, please let us know.
Did we miss anything? Let us know in the comments section below.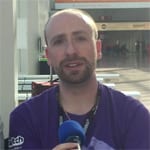 Dom is an award-winning writer who graduated from Bournemouth University with a 2:1 degree in Multi-Media Journalism in 2007.
A keen League of Legends and World of Warcraft player, he has written for a range of publications including GamesTM, Nintendo Official Magazine, industry publication MCV as well as Riot Games and others. He works as full-time content director for the British Esports Association and runs ENUK in his spare time.