UPDATE: 3sUP has taken the OCUK spot after adding three former players to their roster as subs, it's been reported on Reddit.
ORIGINAL ARTICLE:
Team Overclockers has a place in the upcoming League of Legends EU Challenger Series Spring Qualifiers, according to Esportspedia, but the UK PC retailer has told us that its team doesn't actually exist. So, what's happening?
Let's go back to the start. Originally, Team Overclockers was formed in June last year, with the retailer acquiring Reason Gaming's all-Polish roster.
However, after the team put in a string of disappointing performances in the 2015 EU Challenger Series Summer Season (winning two games and losing eight), they finished fifth.
This meant they failed to qualify for the playoffs, but got two byes in the (now imminent) 2016 Challenger Series Spring Qualifiers. The team that finished below them – Ex Nihilo – also re-qualified for the 2016 Sprint Qualifiers along with Overclockers, but their space was recently acquired by Renegades' new EU team The Banditos, which boasts a number of UK players.
That was the last time Team Overclockers played together. Their contract with Overclockers ended, the team disbanded around July 2015 and nothing has been heard from them since.
A few former Team Overclockers players moved to other teams including Illuminar Gaming (also in the CS Spring Qualifiers) and Inspire Esports (which recently signed UK jungler Maxlore and is already qualified for the 2016 Challenger Series).
There is talk that none of the old roster currently play on another Challenger team, so in theory they could reform to play in the Spring Qualifers.
An Overclockers UK (OCUK) spokesperson told eSports News UK: "We don't have a team. The contract ended last year so there is no OCUK LoL team unfortunately.
"We sponsored the team for the last event but haven't done anything for this year at the moment. It all finished last year – we have no team."
But Team Overclockers still has a space in the Challenger Series Spring Qualifiers. So what happens next?
Well, either their space may be acquired by another team, or they could technically form a new roster.
When asked if they may sell their space to another organisation, the OCUK spokesperson replied: "I am unsure, but we don't have a team."
Reddit doesn't seem to know what's happening either.
Some users have speculated as to what's happening with Team Overclockers, with one saying its roster consists of Overpow, KonDziSan, Takefun, Celaver and Libik. However, others are saying Takefun, Celaver and Libik have actually retired.
One week ago, this Reddit post went live, stating a new Polish team has formed and is taking Team Overclockers' place in the Challenger Series Spring Qualifiers. However, that post has now been removed.
Other sources suggest the team has failed to claim their place in the qualifiers.
Back in August 2015, after the contract with Team Overclockers ended, Miodrag Relic, business development director for Caseking group (which owns Overclockers), told us: "We're now evaluating other options – everything is on the table, whether it's another team, sponsoring a league…
"Watch this space, most definitely we'll be involved with eSports one way or the other. That is our crowd, it's our customers and we're one of them. We are part of the crowd, we are part of the community, so we will definitely be involved."
Riot has said that the Challenger Series Qualifiers will take place on January 12th to 20th. That's just a few days away, and nothing new has been announced as of yet. It looks like Riot will have to get a new team in to take Team Overclockers' place.
We reached out to Riot for comment on the situation. A spokesperson told us: "Currently nothing official has been announced regarding the team or slots so I have nothing to add at the moment, other than stay tuned."
Riot made some changes to how the Challenger Series Qualifiers work back in November, including a new age restriction for players under 17 years old. However, it reverted the age change a few days later, stating it was "too restrictive".
Here's Riot's official article on the 2016 Challenger Series Qualifiers.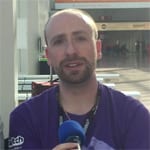 Dom is an award-winning writer who graduated from Bournemouth University with a 2:1 degree in Multi-Media Journalism in 2007.
A keen League of Legends and World of Warcraft player, he has written for a range of publications including GamesTM, Nintendo Official Magazine, industry publication MCV as well as Riot Games and others. He works as full-time content director for the British Esports Association and runs ENUK in his spare time.