Here's part two of our in-depth interview with the National University Esports League's founder Josh Williams (see part 1 of the NUEL interview here).
In this half of the interview, we talk about the NUEL's super team that plays in the ESL UK League of Legends Premiership, as well as UK gaming houses at university and what's next for the organisation, which already has around 350 teams across 125 UK universities…

There was a couple of issues. We put a brand new team together and expected them to gel while playing in a long high-level competition without as much practice as some of the other bigger teams in it. Our team are students and especially over the summer, a lot of them go away or work.
It was a very new thing for them – and they were also playing against excellent teams. We didn't have the rub of the green with our first matches, playing against Infused and FM. People like that are the best teams in the country, so we've been stomped! And that's pretty demoralizing.
In most of the cases, a few of the guys were demoralized by the whole situation, it wasn't what they were expecting. Once one person's left, people get a little unsettled, hence why some people have jumped ship and gone to other teams. We don't have any evidence that someone has poached our players and I wouldn't want to accuse anyone of that.
Who left?
Dynasty, Trashclub Billy and iuKeEe have left. It's been a big learning curve and hasn't been perfect by any means, but we will take stock of everything after the season has finished and look at what we can do better, and how we can better support these top players in the future.
We really like the super team idea so we want to keep that going.
[Note: The NUEL has since fielded a new roster after this interview was conducted: check out new ADC Droolz getting a Pentakill here:]

It can't be easy for players to commit, while they are at university…
There's a massive barrier between people playing League of Legends and playing competitively, and then taking it seriously. That's what we hope we're doing a good job of – trying to break that first barrier down. We want to say: "Here's a league, you can play with your friends and represent your university." So there's something at stake – you don't want a rival university beating you or to be at the bottom, you want to have fun too – so we're introducing a lot of new people to compete, which is fantastic.
The next stage is convincing people who are good to commit their time to it. It's a massive commitment, especially being at university and paying all that money out. To turn round to your parents and say you're going to be a professional gamer, it takes a hell of a lot of guts. And hats off – I have a lot of respect for people who have done that or are trying to do that, with very little security.
How can a university go about joining the NUEL?
What they need to do is register on the website with their university email address, and they will get assigned to their university page. Then they can see everybody who has signed up and plays League of Legends, Hearthstone or CSGO. You can add them all in a game, there are contact details for the NUEL reps that we have, who are representatives from societies or groups that have been managing and promoting their local eSports stuff on campus. So it's dead easy, just register and then get adding people and talking to people.
What's next for the NUEL? Do you have any new initiatives or changes we should be aware of?
Yeah – we're doing lots of stuff. We're going to be running our end of season finals again – NUEL Live – and are sorting out the arrangements for that. We hope that's going to be bigger and better this time.
We want to encourage more events generally, regardless if they're run by us or the universities or societies, because the thing people really get out of the NUEL is they're having a great experience.
The sort of stories I hear that make me think this is all worthwhile are the ones where people come to us and say: "Four of my best mates and the people in my NUEL team all play together and live together in the same house".
Some friends who met through the NUEL have all gone to IEM Katowice as a group, or have gone to Insomnia together, or even joined teams that play in the ESL UK Premiership, for example. I think offline events are a massive part of creating an experience. Universities have all the people in one place so they can organise events quite easily, or get on a coach together and go somewhere pretty cheaply.
We also have the new games and more content coming out. We're working on a website redesign as well, so we've been doing a lot of work behind the scenes to make things more scalable and reliable. Each year we end up with more teams than we're expecting, so we're building for the future and are sorting the foundations so we can introduce new features in the future.

So there are gaming houses in the UK? They're just student ones…
They will be nothing like the LCS houses! They will probably be like a mid-terraced dilapidated little shack in the middle of Deptford or somewhere. A typical student place. Sometimes not all of the team will play in the same house, but they'll sit and play League of Legends together. That's what we're all about – it's about making eSports a regular part of people's lives. That's why we do this weekly league where everybody can play – there's no knockout until the very end, so everyone can enjoy it.
Having a community means people can just go to the pub together or will do mini LANs each week where they'll bring their laptops down and play. Little things like that can help build the UK scene in my opinion.
Out of all those people, if we can inspire them to get involved in the first place, like we're doing, one of them will hopefully go on and do something much bigger, and have a more profound impact on all of us. Whether that's going from the NUEL to win Worlds in a UK team, which is incredibly far-fetched at the moment but we hope will be realistic one day. Or whether they go and set up a really cool event or end up being a fantastic content creator, or they work for some of the big companies, or the BBC and influence opinion on eSports.
It's about getting as many people as we can interested, and sending them out in the world as missionaries, telling people of all the great things about eSports and UK eSports.
You must be extremely busy running all this…
It's weird, you don't really think about it. You look at all the support tickets you've got to go through and you think, yeah, we've got a lot of people!
But it's not really about the number of people, it's about what people are getting out of it. Hearing some of the stories… people send us CVs that they're using to get real jobs, and they've put in details of their time at the NUEL. That's like… wow! So it's having quite a big impact on people.
Can the NUEL become a long-term sustainable organisation?
If it can, then brilliant, but it may take several years before it gets to that point. We'd love it to. We see it playing a big part and being a massive part of eSports going forwards.
The university stuff in America is big and there are quite a few leagues on the continent too. It's definitely a trend that's on the up and we want to make sure Britain is playing a leading role in that.
With Riot's first European internationals over the summer, we lost in the quarter finals which we were devastated about, because we already beat that team in the group stages. So we want to make sure we're shown in a positive light, but most importantly to make sure that everyone is having a great time.
Is there anything else you'd like to add?
If anybody is interested in being part of a community at university, we can put people in touch. People don't necessarily have to play – and you might not want to. But I'm sure someone will drag you along or to be a sub! So please come along.
I'd like to shout out our sponsors and supporters – ESL has been a massive help to us. They did all our production for us at our last event and have been supportive on the business side. They let us use their studios to do a broadcast from last year, which we're looking to do again this year.
It's quite surprising how kind people can be like that, when they obviously have things that are making them money and are more important to be doing, so we're really thankful of their support. Also, Riot has been massively supportive of the League of Legends tournament. Flying the players out to Berlin is not cheap – that had such a massive impact on them so we're really thankful of that. Giving us advice and supporting the university communities is brilliant too.
Thanks, Josh.
For more information on the NUEL and how it works, visit the official NUEL website
Get more eSports News UK content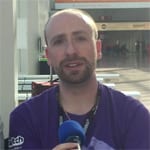 Dom is an award-winning writer who graduated from Bournemouth University with a 2:1 degree in Multi-Media Journalism in 2007.
A keen League of Legends and World of Warcraft player, he has written for a range of publications including GamesTM, Nintendo Official Magazine, industry publication MCV as well as Riot Games and others. He works as full-time content director for the British Esports Association and runs ENUK in his spare time.