There are plenty of expensive gaming keyboard, mice, mouse mats and other accessories on the market for you to blow hundreds of pounds on, but there aren't many budget-priced products that perform well and look the real deal to boot.
Cooler Master's CM Storm keyboard and mouse double pack is a breath of fresh air then, priced at just £29.99. But should you buy it?

Product: Cooler Master CM Storm Devastator Gaming Keyboard and Mouse Combo Pack
Platform: PC
Release Date: Out now
Price: £29.99
Reviewer: Dom Sacco
We'll be honest – we weren't expecting the world when Cooler Master sent us this keyboard and mouse – especially considering the accessory brand has the likes of the Rapid-I micro keyboard with lots of backlit customisation and the Novatouch hybrid switch keyboard available.
However, while those are both quality gaming keyboards, they are both priced above £100 – an extraordinary amount for a single device – and aren't suitable to all gamers by any means.
The CM Storm targets the lower end of the market and does a good job for the money. The backlit styling on the standard USB QWERTY keyboard looks easy on the eye (with each key surrounded by a few millimetres of blue light), although on closer inspection the keyboard does feel like it has one basic block of light with keys stacked on top of it, rather than around each specific key.
You can tap the Scroll Lock key near the top right to turn the backlit function on and off, however the keyboard is very dark without the backlight and makes typing more difficult than it needs to be. But what would you expect from a gaming keyboard? Substituting non-gaming functions for appearance is a common trend nowadays.
There is also sadly no way to change the backlit brightness levels – on and off is all you'll get here.
There are six extra buttons at the top of the keyboard – volume up and down on the right, and stop, play/pause, rewind and fast forward on the left. And the enter key is nice and big – making it more satisfying to press than some of those newer smaller ones.
Other than that, there is nothing special about the keyboard. While it's rather bulky, it's sturdy enough, and won't get knocked around or move as you're gaming, but some of the plastic around the edge does look a little cheap.
What about the mouse?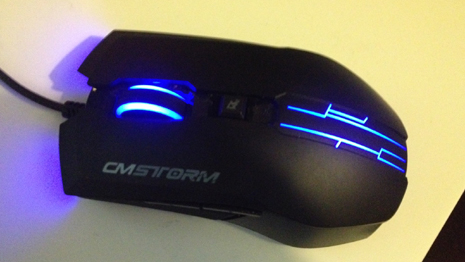 We were more impressed with the CM Storm Devastator gaming mouse compared to the keyboard. It feels surprisingly comfortable, smooth and slightly glossy, with a gorgeous thick blue backlit scroll wheel and a nice backlit lightning-style pattern where you place the palm of your hand.
There are simple back and forward buttons on the left side of the mouse, with a button below the wheel that allows you to change between three DPI modes (1,000, 1,600 or 2,000) when clicked. While this is a nice idea, we never felt the need to use it in-game; for us it just highlighted the need for more in-depth customisation options.
This brings us to the major downside of the CM Storm Devastator combo. It doesn't come with any software or drivers. None at all. If you want to customise the mouse and keyboard you will have to do so using the option settings in Windows, and of course those are rather limited.
There is a PDF that comes with the pack but it's very simple and its only point of value is that it tells you how to turn the backlight on and off (by pressing the Scroll Lock button).
Saying that, both the keyboard and mouse do their job pretty well. They are a cheap and fun addition to a new gamer's arsenal, and look pretty good alongside any blue-themed PC gaming rig, especially one of Cooler Master's own PC cases.
We've been using both products for around three months now and we haven't had any problems playing the likes of League of Legends, World of Warcraft, Counter Strike, StarCraft II and more. But equally there's been nothing that the keyboard/mouse pair has surprised or delighted us with.
For the price, these are budget backlit PC gaming accessories at their best – just don't expect anything extra special.
Verdict
The CM Storm Devastator is a great choice for those new to PC gaming or players who are looking for a budget keyboard and mouse combo. At £30, you can't moan.
6/10
Pros: Cheap, looks good, does the job
Cons: No software or decent customisation options, hard to see what you're typing without the backlit mode switched on, chunky feel, nothing special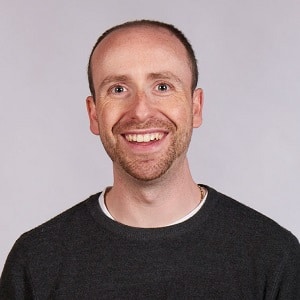 Dom is an award-winning writer who graduated from Bournemouth University with a 2:1 degree in Multi-Media Journalism in 2007.
As a long-time gamer having first picked up the NES controller in the late '80s, he has written for a range of publications including GamesTM, Nintendo Official Magazine, industry publication MCV as well as Riot Games and others. He worked as head of content for the British Esports Association up until February 2021, when he stepped back to work full-time on Esports News UK and as an esports consultant helping brands and businesses better understand the industry.