Esports News UK editor Dom Sacco calls out unprofessional behaviour in UK League of Legends.
UPDATE (November 3rd): We've updated the article with a second opinion from Clique Esports defending Valgard. This can be found at the bottom of the article.
UPDATE (November 3rd): I've had a lot of DMs and responses following this article overnight. I just want to say I don't condone hate brigating or bullying/harassment in any forms, from any side, that includes people being nasty to Valgard or Diabolus or anyone else. Two wrongs don't make a right. Let's stay civil.
I'm sick and tired of certain people trying to stifle my opinion (and the opinion of others) with nasty, childish, ignorant behaviour and bullying.
This evening, MnM Gaming League of Legends manager Alex 'OfficerNaughty' Bowley hosted a (rather excellent) UK League of Legends talk show on Twitch.
The panellists and people watching in the chat discussed everything from the state of UK LoL esports, from the structure of the competitive tournaments to viewer numbers, LANs, team's content and more.
We got onto the topic of behaviour. Alex spoke about big sponsors getting into public arguments on Twitter and the like, and I left a comment saying I was surprised by the behaviour of one sponsor sharing bizarre nonsense on Twitter. I didn't name names, I didn't feel the need to call them out by naming them as I hadn't seen all of their other comments to make an informed opinion, but I have now.
About an hour or so after the stream I received a rude direct message from Jonas 'Valgard' Schürmann, who handles MSI's community and esports marketing.
In essence, he had a go at me about a topic I had no knowledge of. He said I was supporting someone who accused him of being something (which I won't share on here, as there's no proof), and I literally had no idea what he was talking about. I don't folllow UK League as closely as I used to because I don't have the time, but I had several people DM me off their own backs tonight about other stories of rude behaviour and the like, following the stream.
I'm not going to share all of them as there a lot, but here's one I thought was particularly disgusting:
Apparently Jonas was banned from attending the summer 2018 Forge of Champions finals in Barcelona following this tweet.
The irony is, of course, he now sponsors Diabolus, a UK esports organisation he previously said 'lie, scheme, are toxic and more'.
Anyway, Valgard blocked me after his DM to me, not giving me the right of reply. Well, why don't we make my response public as an open letter on here instead because this touches on a wider topic I've wanted to explore for a while now: childishness in the UK esports scene.
This is the kind of behaviour I'd maybe expect from a teenage player a few years back when the UK scene was still in its infant stages, certainly not from someone in their mid-twenties working for an esteemed company like MSI, a brand I admire. I'm now feeling ashamed to have an MSI graphics card sitting inside my PC.
Yes, the scene is full of young people, there are egos, there's competitiveness and tension at times, but there is no need for nasty behaviour, threats or childishness, in my opinion, and I want to bring light to this so the scene can learn from it and who knows, maybe improve in the future.
Behaviour like this need to be called out and stamped out, in my opinion.
Blocking me or ghosting me so I can't engage in a conversation and talk it through like adults is also petty.
My initial comment was based on my surprise when I saw the MSI account retweet this tweet posted by Diabolus Esports a few weeks back. A tweet that was implying the team they beat should go and kill themselves.
Come on, we all know euthanasia is legal in Switzerland. Diabolus swiftly deleted the tweet at the time and denied that was their intention to imply their opponents should kill themselves. So fair play to them for deleting, but for MSI to retweet it was surprising to me.
I've also had a falling out with Diabolus in the past, who couldn't handle fair comment on them and wouldn't stop flooding my DMs with angry comments bordering on harassment. This is not something I'm prepared to tolerate. They ended up ignoring me and leaving the situation unresolved, despite me wanting to clear it up, but that's up to them. (UPDATE: Diabolus and I have now patched things up and talked through it as adults).
If you want to talk it through like an adult, that's fine, but if you want to get nasty or childish, don't be surprised if I bite back. I'm no saint, but I'm sick and tired of putting up with stuff like this.
How Riot and LVP and MSI can support this kind of behaviour, I have no idea. But hey, Valgard has received a mention in an article on a small news site so technically he's doing his job getting coverage. There's no such thing as bad publicity, right?
So that, along with some other odd tweets, is what I was talking about when I referred to a sponsor sharing bizarre nonsense.
The sad thing is, I never had a problem with Jonas until this evening because I barely knew him.
He also said this on stream (which I missed at the time, but an anonymous person sent it to me after the stream):
Jonas, you know nothing about me and this comment shows your ignorance. People who know me will know I don't chase headlines, stories or clicks. I write whatever I want to, I write articles that I feel would be of interest to gamers and those who are interested in UK esports.
The site makes barely any money, it's a small independent site run in my spare time born out of my love for the UK esports scene. I rarely check the traffic because I don't need to. Sometimes it does surprisingly well, other times it doesn't. The site doesn't need to generate traffic because it has no targets or bosses telling me what to do. This means I can say things as I see them.
Esports News UK is not a Dexerto or IGN or ESPN Esports and never will be with me in charge – I don't want it to be. I'm actually considering selling to someone who will have the time to run the site and grow it properly (cue cheers from the haters like you).
So no, Jonas, I don't chase headlines – maybe some objective thinking would do you good.
---

Has the UK esports scene improved over the past few years?
Dom Sacco shares his thoughts on the scene in general and how we could improve things further
Prominent esports journalist Richard Lewis once said a few years ago that the UK grassroots esports scene is full of well-meaning idiots and malicious scumbags, amongst a small amount of decent, professional people. I thought things had improved since then, but things like this cast doubt in my mind.
I've also heard of people threatening to sue others – like this. I've had it done to me in the past. I could call out others but I believe everyone deserves a second chance.
I've also been blocked by other people in esports in the past, who can't handle criticism. It's a shame but it won't stop me writing about the scene.
There's a word for people who threaten and harass others. They're called bullies. And I've got no time for them.
For me, this topic is important. No one should feel bullied or threatened about doing what they love in esports.
You can call me childish for writing this article. But there comes a point where you need to call out this kind of behaviour for the good of the scene. Just grow up, talk like adults and move on. Your pettiness is not helping anyone but yourself.
Esports is about more than that, it's about the players, the community, the fans, the moments, storylines and amazing plays. Why not put any selfish actions or egotistical thoughts aside and focus on that instead?
Second opinion from Clique Esports: 'Valgard has done more for the UK scene than most'
George Spour, co-owner and CAO of UK esports organisation Clique Esports, sent the following in to Esports News UK after publication of this article. We've posted it below:
"Dom as someone who knows Valgard VERY well your article is completely taken out of context. I do not condone his Twitter behaviour of that particular situation. But Valgard has done more for the UK scene than most.
"MSI are one of the last remaining large sponsors of grassroot teams within the UK. The reason for that is Valgard. The man is blunt, and makes points a lot if people to seem to not like but he's also extremely kind and genuine. He doesn't same something unless it's true or he acts on what he says. The reason there's so much hate for him really.
"The UK scene is SO immature and when he turns down sponsorships he's honest to try and help them the best he can. You DM him saying "Can I have sponsorship please", trust me some larger orgs do just that. It's ridiculous for a org owner to do that with no business model or content model.
"He tells them straight, that it isn't good enough and they aren't looking. People get butt hurt because they're so immature.
"Also, has the UK LoL scene improved? Hell no, hence why we're leaving. If the players aren't childish (not them all – I love some of them with all my heart) then other owners are childish or showing bad business practice to make a few pound.
"Funny enough, the org that treat their players the best and pay them well is Diablous. Every other owner I've had a clash with due to the treatment of staff and players. There are very few nice owners out there that wouldn't stab you (you included) in the back just for the crack."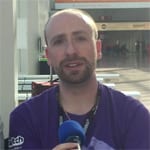 Dom is an award-winning writer who graduated from Bournemouth University with a 2:1 degree in Multi-Media Journalism in 2007.
A keen League of Legends and World of Warcraft player, he has written for a range of publications including GamesTM, Nintendo Official Magazine, industry publication MCV as well as Riot Games and others. He works as full-time content director for the British Esports Association and runs ENUK in his spare time.